Why Millennials?
As of 2016, millennials have overtaken baby boomers as America's largest living generation according to the U.S. Census Bureau. There are about 75.4 million millennials, and growing, in the U.S. and they all need a trustworthy financial institution. Many millennials are approaching a stage in their life where they are not only gaining independence, but they are learning about and considering loans and mortgages to help achieve the next big steps in their lives. Consider this: about 25% of credit union members in the first quarter of 2016 were millennials, and that number is suspected to grow substantially. Credit unions have been growing by 6.35% annually and it makes sense that millennials are a major contributing factor.
How can credit unions appeal to this generation and how can they showcase those benefits through design?
Credit unions should:
Become an Established and Involved Part of the Community
Lean on Your Not-For-Profit Roots
Provide Education
Be A Convenient Solution
Your Place in The Community: Figuratively
A successful credit union should consider their place in the community both figuratively and literally. Studies have shown that millennials don't trust big business as much as past generations. About 40% of this generation said they prefer to buy local even if the product gets more expensive. To earn that trust, a credit union must establish themselves as part of that local community. To determine this through design, a credit union needs to provide more than modern arrangement. You need a concept that includes a local feel incorporating the spirit of the community to create a space with personality. This can be done through murals, games, digital signage and other elements that bring representation of the life of your community in your doors.
An excellent example of this is the Prime Financial Credit Union, which was founded in 1923 for the public works employees of Milwaukee. They used this history to their advantage when they redesigned their credit union. When they approached their interior design team, they decided to add murals and prints of old Milwaukee public works photos along with all their modern design changes. Not only did this add a sense of classic charm to their location, but it also reestablished their roots in this community. Anyone who walks into that credit union can tell right away that this business has a heavy connection to the community and that connection is clearly something they value.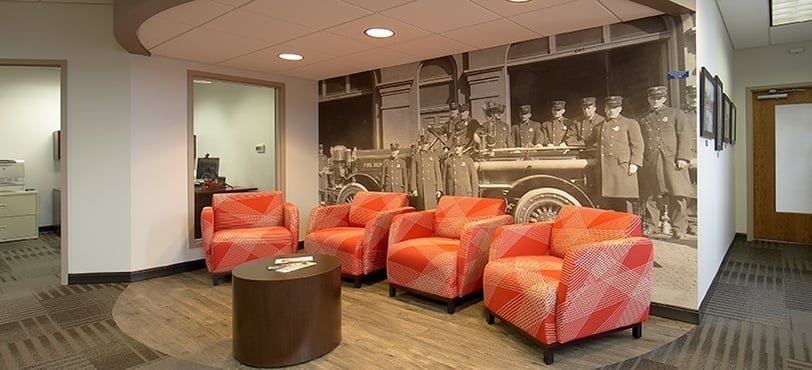 Your Place in The Community: Literally
Thanks to micro branches, underserved communities that didn't have the space necessary for large financial institutions are now being offered the services they need and deserve. Micro branches allow new technology and digital elements to maximize space and provide all the products and services a full-sized branch would offer. Places like college campuses and cities are now able to benefit from a credit union even with the limited amount of space provided. Coincidently, college campuses and cities are prime locations for millennial foot traffic. According to citylab.com, 25-34 year olds are more likely to live in close-in urban neighborhoods than any other Americans, and more people are going to college than ever before. These micro branches create more opportunities to connect with communities that have yet to build a strong relationship with a particular financial institution.
When presented with less space, branches like these use Interactive Teller Machines (ITMs). Through this technology, members can get all the benefits of working with a teller face-to-face, with longer service hours. ITMs have a representative working via video chat to help with withdrawals, transfers, checks or any other service offered by a credit union. Because these tellers are working remotely they can be available during more convenient hours.
With such a small footprint to work with, it's important to use design to bring these spaces to their full potential. Generous lighting and glass can be used to open up a room while organization and decorative storage can be used to maximize space in the lobby while still providing a relaxing space.
Leaning on Not-For-Profit Roots
According to a Berkeley Research Group report, one of the most important things to millennials is that businesses cater to the local community. So, it's not enough to simply be a part of the community, your branch needs to contribute in a meaningful way. All credit unions are by definition, nonprofit. Any profit made by a credit union is returned to the members in the form of reduced fees, higher savings rates and lower loan rates. Yet, there is always room for improvement. Any way a branch can offer something to members of the community is good, no matter the size. Even amenities as small as free Wi-Fi, cafe beverages and snacks, or a conference room that's available for use by the public is great. It's all about the little details that create loyalty.
Additionally, be sure to promote nonprofit work through digital signs around the facility, and supply where to find more information. These will help show that your institution is well rounded and dedicated to being philanthropic above and beyond what's expected.
Providing Education
Similarly, providing education could be considered another way of providing an incredibly valuable service. Many credit unions pride themselves on educating their members, and helping them take steps to improving financially. Studies show that 58% of millennials are interested in their financial institution proactively recommending products or services. And what's more proactive than securing your financial future?
There should be a few clear, easy to see promotions around the facility that showcase exactly what kind of help your institution offers. Pamphlets and brochures on teller desks or in seating areas proudly advocating for "budget guidance" or "home ownership workshops" are sure to get noticed.
Many millennials could benefit from the extra help. According to CNBC, 80% of millennials would like to purchase real estate, but have little to no money saved up for a down payment. Having a focus on home owner education is a sure-fire way to help meet member needs and gain approval and loyalty.
Being Convenient
Having an accessible location and efficient space layout is the first step in helping members get what they need. Areas that are clean and organized help provide a relaxing environment. Optimal open space creates buffer zones which establish privacy and is preferred in an environment in which people are dealing with personal affairs.
All facilities should have clear signage that direct members to the areas they need instantly. Everything from ITMs to coffee stations should be clearly marked. In many cases, a credit union will be designed with warm or neutral colors then accompanied with an accent color. That accent color pops and therefore is often used in the signage so it stands out in the lobby.
A centralized coffee station and technology bar is a great way to spark a member's attention and increase member dwell time. Considering millennials spend 35 hours a week using digital channels on their mobile devices, it's likely those devices take some drain and could probably use a boost. Not only that, but technology bars often provide company iPads that have financial apps and educate members about offerings. This gives the member the opportunity to learn more about products and services, as well as occupy themselves while they enjoy a drink and charge their phone.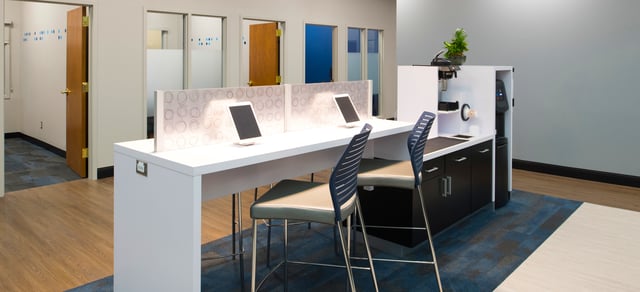 Another personal touch would be adding a children's station to keep kids occupied so parents can take care of their important business. Offering toys or an iPad with games is a great way to show that your credit union is family oriented and cares.
What steps are you taking to attract millennials through thoughtful credit union micro branch design? Have any of the elements discussed made an impact on your membership in recent years?