MILWAUKEE, WISCONSIN -- When it comes to design and build decisions for 2019, credit unions will need to be focused on the credit union "experience"–for their members, employees and communities, says La Macchia Group.
Credit unions that are making the smartest investments in their facilities are doing so while armed with real-time information, according to the company. Moreover, they are drawing "inspiration" from their brand and local community to renovate or create new branches with eye-catching exteriors and enhanced interiors, said Senior Creative Director Danielle Havlicek.
"Their objective is to create retail destinations with opportunities for financial and other additional services. This trend lends to more branch locations having community rooms, coffee shops, training spaces or other unique engagement areas," she said.
To meet member needs, increase engagement and to stay competitive, credit unions must continue to invest in technology, emphasized Havlicek.
"More and more credit unions are integrating omnichannel solutions through technology that leads to better business efficiency, productivity and service," Havlicek said. "Financial institutions will continue making investments across the board, from digital platforms to brand and tech integration, to the physical space. These elements combine to create personal and memorable brand experiences that engage the member, the staff and the community."
Park City CU's Example
An example of one credit union that has successfully made such an investment is Park City Credit Union in Merrill, Wis. As CUToday.info reported, La Macchia Group recently completed its new headquarters office.
"The new building combines all the elements needed for a truly experiential building based on research and a data-driven strategy," according to Havlicek.
Park City Credit Union wanted to bring forward-thinking services and experiences, not only to their members, but to their staff and to the Merrill community, Havlicek explained.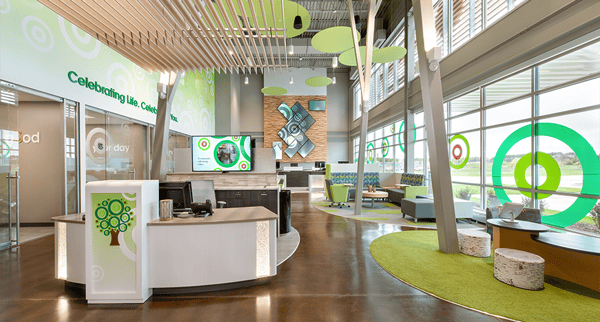 "With the mission of 'helping members fulfill their dreams, while serving our communities,' Park City knew that their new headquarters would need to embody that statement," Havlicek said.
The credit union's president and CEO, Val Mindak, added, "We have to figure out a way to deliver the type of service experience the member is looking for." He noted PCCU wanted to achieve "a great experience that incorporates high touch and high tech."
Influenced, Educated, Engaged
By understanding the unique demographics of the credit union, La Macchia Group was able to produce a custom environment that is adaptable, modern, and experiential, Havlicek said.
"No matter how a member would choose to interact with the credit union, whether it be through digital platforms or through visiting the branch, Park City would be there supporting them. Questions such as how they would move within the space, how they would interact with the brand, and how they would be influenced, educated and engaged were explored," Havlicek explained. "The final result of this holistic approach was a facility ready for growth with the capabilities to achieve a dynamic user experience."
"We worked to make the brand meaningful," added Tom Kennedy, COO of La Macchia Group. "We wanted to create ways to draw people in. We wanted it to be personal."
Within the new headquarters, Park City has a new retail environment lobby, mortgage and lending center, multi-purpose community/conference rooms, and a training room. Technology is strategically incorporated throughout the entire building.
"A dynamic user experience is achieved through unique digital signage that hosts custom, branded content," Havlicek said.
Employee Experience a Key
Park City also knew the experience of their employees in the new headquarters needed to be factored into the design, noted Havlicek.
"That's why spaces like the new employee gym, locker room with showers, and a break room were integrated. Positive staff experiences will translate into positive member experiences," she said.
Park City included a coffee shop in its office to attract the local community.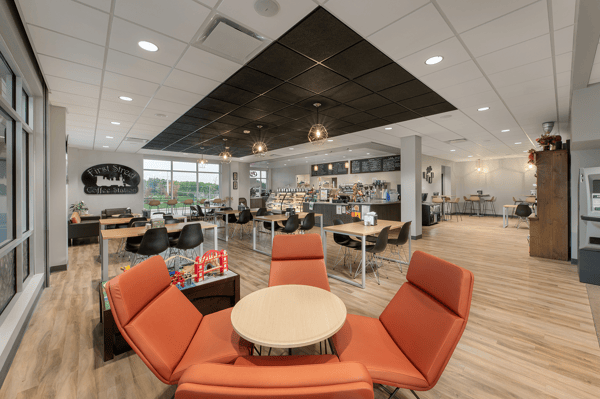 "Having the coffee shop in the same building and adjacent to the retail lobby allows members to access amenities, and potential new members have the ability to interact with the Park City brand," Havlicek said.
Not Losing Relevancy
"In order to be a player in a very complex financial market, if you don't have these types of services you are going to lose your relevancy," said Mindak.
"We're anticipating that in 2019 credit unions will be creating unique financial experiences within their digital and physical landscapes to deliver the best brand promise to their staff, members and community," said Havlicek. "The market to capture and retain membership is changing and one of the top ways to combat that is through developing strategic and branded experiences that inspire—and drive—member loyalty.
Watch this video by La Macchia Group to see Park City's new headquarters.