Milwaukee, Wisconsin -- Recently published by CUES, a credit union project designed and built by La Macchia Group was recently featured as "Fab Facility." The "Fab Facility" recognition was given to Andigo Credit Union of Schaumburg, Illinois that opened their doors in Fall 2017. To view the full article by CUES, click here.
Featured in CUES: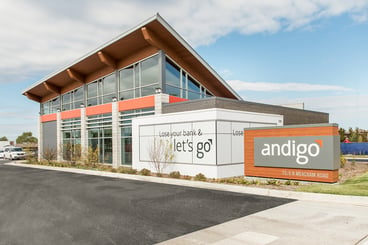 Andigo Credit Union
"Making Its Brand Pop"
Location: Schaumburg, Ill.
Builder: La Macchia Group, a CUES Supplier Member
Completion Date: August 2017
Square footage: 3,842
Employees: 9
Why is this Branch Special?
Andigo CU's fresh, playful brand was the inspiration. The design focuses on the unexpected, using unique finishes, pops of branded color and dynamic details.
From the moment you walk in the door, you realize you're in a space that houses the next generation of banking; it's not your typical branch. Members are comfortable carrying iPads throughout, making appointments at touchscreen monitors while enjoying entertainment via a translucent monitor, which allows users to view what is shown on the screen while still being able to see through it. $873 million Andigo CU wanted to wow members with technology and branding, and it delivered.
Most Unique Feature
Not just one, but a combination of details tells the story, from the video wall behind the tellers to the arresting shape of the building to the huge logo on the ceiling that is visible through windows high in the walls, essentially becoming a billboard visible from across the street—especially when lit at night.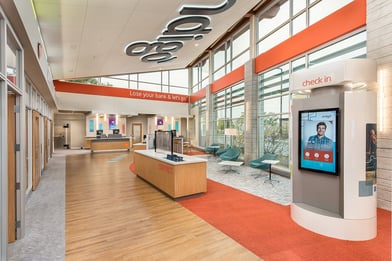 Key Considerations
Andigo CU partnered with La Macchia Group to perform a strategic analysis. After evaluating the CU's market position, the firm provided a strategic plan to support future growth and identified a well-trafficked location in Schaumburg, Ill.
Wow factors
At the Connect Station, members work together with staff to complete transactions on iPads in a personalized experience.
The Kids' Play Zone provides an iPad and a monitor so kids can play financial literacy games and participate in monthly coloring contents.
Teller pods create a retail environment, operating as a traditional teller line with a more engaging experience.
Digital canopies cover the teller pods, a wayfinding element members recognize upon entering.
Remarkable branding
The oversized logo on the ceiling that becomes a lit billboard at night when seen through the location's high windows takes branding to a new level.
From the custom-branded carpet to the "Andigo orange" wall covering, with brand elements infused throughout the lobby for an immersive branding experience.