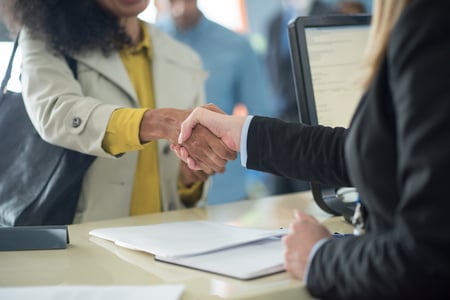 Credit unions are built on a foundation of "people helping people." With this foundation being one of the biggest competitive advantages for a credit union, members feel like they are working with a trustworthy neighbor or family member to gain assistance with their finances. Credit unions make financial education a fundamental element in their proceedings. This, along with the fact that credit unions are non-profit, helps build trust between members and the business. Members know the people behind the desk are genuine in their desire to help, and any profit they make will come back to benefit members through lower rates.
Another major competitive advantage for credit unions is convenience, which is often supported by the latest technology. This is now often achieved through customized micro branch design. Which presents seemingly contrasting benefits: how can you have a trusting and friendly relationship with your neighbor if you aren't able to interact with them in person?
Member service doesn't start and end with face to face contact. There are many other ways you can fully meet your members' needs through the latest amenities provided in thoughtful micro branch design. Let's break this concept down…
Members need:
To know they can reach someone when needed
Conflict Resolution or monumental events such as a closing
To feel safe and secure
There is no doubt that these needs can be met with a credit union micro branch. When designed in a way that best fits the brand and community, design can even enhance member loyalty and trust.
First things first, your branch must be designed to include amenities, visual elements and technology that meets members' needs.
Micro branch or "tellerless" design does not mean compromising on personalized help. Members don't have to worry about being left high and dry thanks to interactive teller machines (ITMs). ITMs are similar to Smart ATMs, except they have a representative available on video chat to provide assistance - just like an in-person teller. These machines are secure and allow you to make deposits, withdrawals, transfers, loan payments, cash checks and various other operations. So technically these branches aren't tellerless, the tellers are just connecting remotely.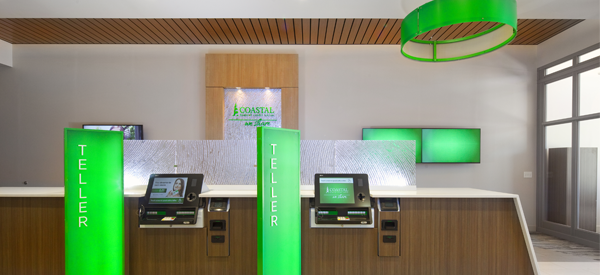 One of the main benefits a micro branch or "tellerless" branch provides is the opportunity for machines to operate longer and at more convenient hours. This technology allows members to accomplish tasks quickly and offers them more opportunities throughout the day to take care of their financial needs.
Added ways to show your members you care with a micro branch design may also include added amenities and visual elements such as cafés (complimentary coffee and beverages), digital support and technology accessible from member's own device and a clean, organized and comfortable space that welcomes "hanging out" and not overdone with promotional messages.
Keep multiple lines of communication open – members should be confident that the help they need is easily accessible.
One of the most influential and fastest growing member segments for credit unions is millennials. An important statistic to consider in micro branch design is that millennials are far more likely than any other demographic to leave their primary financial institution if it doesn't meet their needs. While the convenience of talking to tellers via an ITM may be preferred, most micro branches will employ an on-site representative who is available for more personalized consultation and transactions.
Many micro branches are designed with small multi-purpose private offices so members can talk over private matters with a representative if needed. This design element and amenity is something that can be replicated for online offerings as well. Websites and credit union apps should provide a clear and easy way to reach member service representatives.
Let your members know you want to hear from them and make it easy to reach a credit union representative. Having this connection with members will benefit the ever-advancing technology in credit unions. When credit unions continue to keep a successful back and forth communication with its members, insights can be discovered to continue to grow and improve the design and digital offerings that make their interaction with your financial institution great.
Members should feel the same sense of security walking into a micro branch as they would walking into a full size branch.
A common misconception with micro branch design is that the perception of safety will be compromised. However, there are many elements that can be included that promote a feeling of safety and security. In fact, micro branch design incorporates just as many safety features and elements, if not more, than traditional branch design. In addition to cameras and alarm systems, to the front entrance to a micro branch are designed in a way that won't allow an individual to open without a membership card during certain hours. This is made possible through the use of ITMs which allow a secure transaction without the need of a teller on-site.
Other design elements to create a safe and secure environment include ample personal space with well-considered buffer zones that create the privacy desired by members as well as lighting that draws the eye and creates a sense of safety and security.
Overall, keeping member care top of mind in branch design comes down to establishing trust. A member needs to trust that your micro branch will take care of their needs in a convenient, personalized manner and just as efficiently as any other financial institutions. Most importantly, micro branch design should communicate your organization's dedication to helping members reach their financial goals.