FOCUS: INTERACTIVE TELLER MACHINES
---

One part financial, one part high-end retail boutique, La Macchia Group transforms the financial experience as we know it, mixing emerging technology and service to reinvent the bricks and mortar financial experience.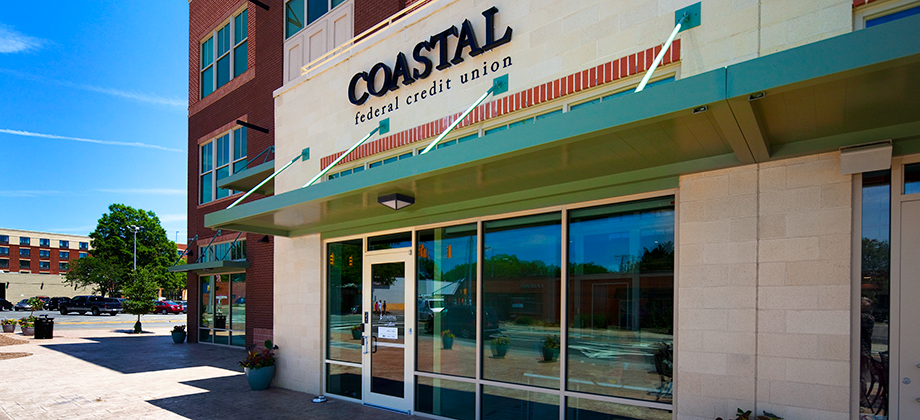 But how do you make a small space feel both open and safe—especially with no staff on site during extended teller hours? Our design team tackled this dilemma through the use of technology, which was a priority for member access. With a swipe of their cards, members can securely enter the 1,150-sq.-ft. lobby, which is accessible to members from 7 a.m.-7 p.m., seven days a week.
Plan
After we performed a market study and analyzed demographic and competitive data that would allow them to pinpoint the prime location to open this new branch. The goal was to locate a space that expanded the credit union's footprint, increase membership and introduce consumers to a unique and immersive financial experience. A storefront location in Carrboro, N.C., proved to be the strategic decision that would allow Coastal to take advantage of membership opportunities at the nearby University of North Carolina campus.
"La Macchia Group impressed us," says Ross. "We liked that they had experience with PTMs, which was important to us. We also liked their focus on credit unions. They are forward -thinking, and really looking at the branch of the future."
With the real estate determined, the design team was challenged to transform the long, narrow existing space into an easy-to-navigate interior that not only lives up to the Coastal Federal Credit Union reputation, but also sets a design precedent for future locations.
Brand + Design
With few visual obstructions, the space offers a clear view of a reclaimed wood feature wall highlighting the Coastal Federal lighthouse brand mark in backlit acrylic. We chose this detail because it makes a huge impact in the space—creating an iconic beacon from the exterior and an impactful brand statement within the interior. We continued this brand expression throughout the modern space with bold branded applications, such as the mission statement and logo prominently showcased on the wall, a massive video display wall, merchandising casework with tactile marketing boxes, and teller signs internally lit in the brand's signature green hue.
A credit union branch without tellers? The premise almost contradicts itself, but it's exactly the idea behind Coastal Federal Credit Union's innovative and successful credit union branch concept. Since 2003, Coastal Federal Credit Union has been challenging the way technology is utilized in credit unions, such as changing their staffing style in every branch and centralizing teller operations in 2011.
By 2014, The credit union's leaders decided it was time to grow again, tapping us to help them get started with a strategic branching analysis. Willard Ross, senior vice president, chief strategy and talent officer for Coastal Federal Credit Union, explains: "We wanted to be smart and strategic in the new growth plan, identify gaps in the market and figure out the best places for new branches or transactions."
So, how did we do it?

"Due to the PTMs, we don't need a big footprint anymore and that was part of the original vision when we adopted this technology," Ross says. "An important aspect of the 7/7/7 service (member access from 7 a.m.-7 p.m., seven days a week) is having access to the branch lobby and being able to swipe for entry into the vestibule. In Carrboro, we took the opportunity to open the whole lobby as the vestibule."
Build
With innovation always on our minds at the Carrboro location, our team explored a new way to install the PTMs. Typically, PTMs are built into a wall in order to accommodate the equipment size and service needs. But for Carrboro, we worked diligently to create a standalone configuration in order to maintain clear sightlines throughout the interior. By locating the PTMs in the central island and orienting them so that they can be seen from the main entrance, they have become the featured focal point of the space.
Moving Forward
Simplicity, flexibility and functionality were key driving forces behind the design as we worked to maximize this small footprint. From the PTMs to the video screen wall, the design projects the Coastal Federal commitment to be a place "where community meets technology" in a fun and meaningful way. With our team's direction, the Carrboro location demonstrates Coastal Federal's ability to deliver an immersive experience in a small footprint, a solution they will continue to apply in various markets, fulfilling their reputation as an innovator and leader in the industry.