La Macchia Group Named 2020 Best Place to Work
by Nina Penson, Senior Marketing Specialist
MILWAUKEE, WI – It's becoming more evident today that a strong workplace culture dictates where employees choose to work. Recently, the Milwaukee Business Journal announced La Macchia Group, a bank and credit union design-builder located in Milwaukee's Third Ward district, a 2020 Best Place To Work! The teamwork, trust, and strong core values is what won La Macchia Group this honorable award and is a true testimony to how employees feel about working here.
The Best Places To Work program is an employer of choice contest that measures a range of research-validated workplace factors that impact employee engagement, job satisfaction, and advocacy for an organization. Setting an organization's workplace apart from other talent competing firms helps prove that you're one of the best companies in the area to be employed at.
What This Award Means to Us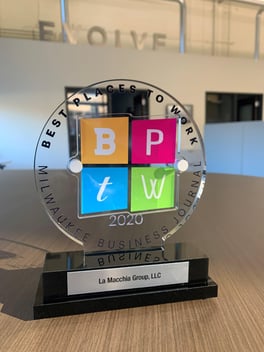 This week we spoke with some of our senior leaders to understand what this achievement means to them and our organization. In his first year as President of La Macchia Group, Tom Kennedy says, "Being a Best Places To Work award winner is a great honor. Winning this award in 2020 is particularly uplifting and it's entirely attributable to our amazing team and the constant effort they put forth supporting each other and our clients."
It's no secret that 2020 was a challenging year for everyone. Despite this, La Macchia Group was able to continue fostering a culture that supported its employees throughout various changes of the year like working from home, balancing work and life, and continuing to satisfy clients. "To win this award is always an honor, but to do so in 2020 is a real testament to our employees' commitment to one another and to preserving our culture. I am incredibly proud of our team" says Senior Vice President Benjamin La Macchia.
Carrying this energy into 2021 is important to the team and to the future success of La Macchia Group. With hopes aimed high and values remaining strong, we are ready to take on the new year with a bright outlook.