FEATURED IN CUInsight: 5 Steps to Tackling a Branch Network Transformation
by La Macchia Group
Today's digitally savvy consumers have high expectations, and retail brands are racing to design new ways to meet and exceed those expectations. To win the race, retailers are focused on driving activity and differentiating themselves across an increasing span of channels. Mobile apps, conveniently-located stores, social media outlets, and more, all need to have a consistent message and provide ways for consumers to enjoy every touchpoint they choose.
Whether they are in-person or self-service, how does a credit union best connect with their current and future members while maintaining a consistent user experience? The branch network plays a critical role in building trust and credibility, facilitating higher quality financial interactions that lead to higher margin products and services. Reimaging the branch network for the digital era should be viewed as an opportunity to reduce cost, increase revenue and enhance the user financial experience. Here are five steps to tackle a branch network transformation.
Step 1: Leverage Data to Gain Strategic Insights
In order to support brand loyalty and craft a meaningful user experience across a branch network, market research and analyzing member demographics is essential. The consumer mindset is the single biggest driver of change. The best way to decipher your membership and market needs is by analyzing some key areas that will provide the framework needed to attract, retain and achieve brand loyalty for every generation. From socioeconomic profiles of your membership to analyzing the competitive landscape of your market, the data uncovered from this research will provide the insights into your future success.
Step 2: Craft the Member Journey
Today's consumer choices are driven by experience. They want an experience that is comfortable, user-friendly and dynamic; one that resonates with them on a personal level. That means that whether they are visiting the flagship location, a small local branch or engaging through a walk-up or drive-thru service they have a consistent and memorable brand experience. When considering a branch network transformation, the design development process considers strategies for achieving brand consistency. What is the member's purpose, motivation, preferred medium and expectation along their journey through a branch? Being able to design with the answers to these questions in mind, allows engaging touchpoints to be created, moments that enhance member relationships.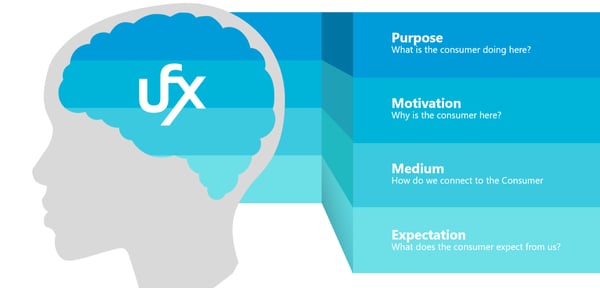 Step 3: Establish a Distinct Brand
Differentiation begins with a unique brand. A brand is an expression of your organization's DNA. It communicates who you are, and by infusing your brand into every financial touchpoint you create a memorable experience for your members. Your brand doesn't stop at your door or after a member leaves the drive-thru. Creating a strong brand presence in your community and membership drives brand loyalty and brand awareness. Your brand should stand out from your competitors and convey a message that is unique to your business.
Step 4: Integrate Technology
Technology is a powerful tool that when integrated properly can maximize member engagement. It should be seamlessly integrated into the structural environment in a multifunctional way so that it offers a means of entertaining, communicating, connecting, educating and transforming. We believe in an artful, strategic blend of technology and architecture. It should be branded, strategic and engaging. And the integration of the right technological platforms should be traceable back to the market and member research. Weaving in the right digital platforms will increase engagement and enhance the member experience. Digital content within a space can influence user behavior and also be a resource for your members to interact with your brand. Whether a member is logging in to your mobile app from miles and miles away or while entering the space and viewing a display with the latest events in the branch, that digital content experience should be reflected across all delivery platforms at your credit union.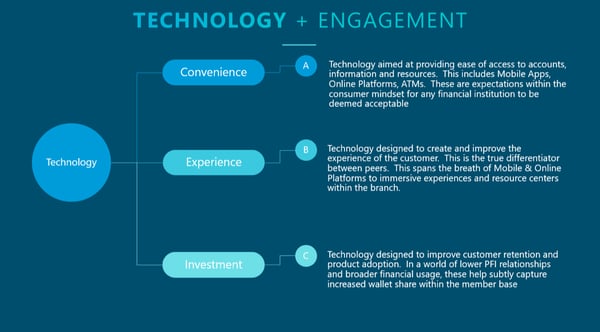 Step 5: Develop a Scalable Kit-of-Parts
Establishing interior and exterior elements that can be leveraged across a branch network, no matter what the existing building looks like or when it was acquired, are important for a consistent member experience. These options can be scaled for consideration of a light cosmetic update for an existing space, tackling a more extensive remodel or new construction. The welcoming feel of the entry, the general ambiance, the ease of use, the helpfulness of staff, the accessibility of the drive-up, all of these touchpoints effect the user experience. Impactful design elements and subtle details work together to achieve a consistent User Financial Experience no matter the location. Consider the brand elements, member-facing finishes and materials, and the technology as examples of a meaningful kit-of-parts.
Consideration of the entire branch network collectively with your team across departmental silos will aid in a successful overall strategy that will differentiate you from the competition. Utilizing data and performance metrics to identify areas of focus, developing member journeys based on what current behaviors are of interest, living the brand, infusing technology and communicating a toolkit that can be site specifically adapted all play a major role in the success of a branch transformation strategy.
With decades of collective experience in the financial industry, La Macchia Group provides turnkey solutions, including project management to orchestrate the most cost-effective and seamless approach to your branch transformation journey.