FEATURED IN CUToday: Common Mistakes to Avoid in Design
by La Macchia Group
Milwaukee, Wisconsin -- Digital banking is forcing credit unions to be much more efficient with their branch space, says one design and build firm.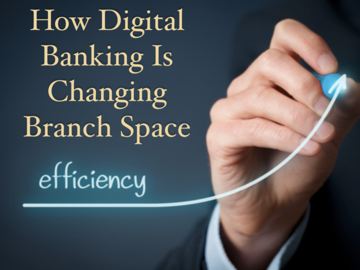 "With the heavy digital presence today, smaller brick-and-mortar locations are becoming more popular to allow for branches to expand into areas in which they never have been before. That means every inch of space counts," said Danielle Havlicek, director of design strategy at La Macchia Group. "Consumers are looking for convenience and in an omni-channel world, brick-and-mortar stores need to provide a unique experience that you can't just get online. So what types of connections can be made at the branch level that does more with less?"
Common Missteps
Some common missteps often occur with amenities within the branch lobby, according to Havlicek.
"Credit unions have features in prime real estate areas that are intended to encourage a connection with members through the use of café counters, tech areas, community walls, sign-in stations, digital marketing and printed collateral," she said. "These features are important to consider in the overall member experience, but what happens when these things are neglected, carry generic or stale messaging, or even become outdated?"
Areas often invested in and sometimes neglected, according to Havlicek, include:
Tech Desk
"In the pursuit of maintaining relevance and demonstrating a level of tech savviness, a tech area has gained popularity over the years. However, a table with iPads is not necessarily an enticing amenity," she said. "What are your members' tech habits? Having iPads, interactive touchscreens, etc. are only effective if they are used and the content is engaging. If your members are always on their personal devices, do you need a tech desk? Can it instead be a multi-functional space, capable of evolving to support the needs of your members?"
Marketing Collateral
"The traditional marketing and sales process grew dependent on printed materials. Sometimes, television monitors were installed to share messaging too," Havlicek said. "Printing updates can be a burden to the budget, so how outdated is your information? Do members pick up a brochure or are they simply causing clutter? Does the monitor grab their attention or is it just a blank screen on the wall now? It is important to understand the information your members desire and the best methods of delivery."
Transaction Platform
"There are legacy aspects of the branch that seem comfortable because they are familiar, right? That is what can be said of the traditional teller counter," said Havlicek. "Everyone can remember time spent in a long queue line or two. Today, people have so many options besides coming into a branch, and our universal 'busyness' makes us impatient with any type of line. When members decide to come into a branch, they are doing so for a reason. The key is understanding your members and potential members, so you can deliver an efficient experience that will make them want to come back again and again."
Design Decisions
The retail areas and tools integrated in a credit union need to be created based on the demographics and member personas being served, Havlicek insisted.
"Design decisions need to be based on what drives your membership culturally, what they like to do, how they like to interface with their finances or learn more about them," she said. "There are so many innovative products, digital capabilities and opportunities to create impactful spaces that enhance the member experience and create deeper, meaningful connections. The key is investing in the research necessary to truly understand your members and create a strategy that takes a multi-channel approach, one that considers every touch point—the entire consumer journey."
There certainly is a financial impact with the branch features selected and decisions made, noted Havlicek.
"While a digital platform may cost more upfront, the ability to update content becomes easier and eliminates large printing budgets. If your credit union can refresh messaging quickly to better connect with members, that has greater potential to secure new accounts or deepen member commitment," Havlicek said. "Rethinking a tech desk, transaction platforms and other areas allows the footprint of your branch to be reduced which can create a savings from a real estate perspective as well as FTEs."
What Drives Decision-Making
Havlicek emphasized that consumer choices are driven by experience.
"They want an experience that is comfortable, user-friendly, and dynamic—one that resonates with them on a personal level," she said. "From your physical branch to your digital channels, every interaction is an opportunity to build a relationship with your members. Our UFX—User Financial Experience—methodology guides how we shape the overall experience of your consumer journey, your brand, your products and services. We analyze each phase of your project through an experiential lens to ensure your business is creating a lasting impression.
"This is not a one-size-fits-all answer for all credit unions," continued Havlicek. "Our UFX methodology really digs deep into your specific market and member profiles. We analyze the purpose of the consumer, their motivation, the best mediums to be used to connect with them, and how to deliver on their expectations."
She said that helps La Macchia determine:
What technology to implement and how to integrate it into the physical space
The best ways to infuse branded and community messaging into the experience
What types of collateral will be engaging and effective
How to create a space plan that enhances relationship development
"We think about your member journey from start to finish and implement a branch design and digital strategy that is future-focused—one that will deliver ROI, not become a misstep or wasteland," Havlicek said.