The micro branch is a perfect example of how the financial industry is evolving to meet the needs of busy upcoming generations. The purpose of a micro branch is to provide the amenities of a full-sized financial institution in a smaller footprint with reduced staff and an emphasis on high-value member interactions. By incorporating the latest technology, branches offer secure and timely service while still maintaining a relaxed and open feeling, regardless of size.
When positioned and designed appropriately, a micro branch can effectively build your brand and expose potential new consumers to your business. While micro branches are full-service, the delivery model is uniquely different than that of a traditional branch.
A common misconception is that the emerging millennial market primarily conducts transactions with their financial institutions online. According to Salesforce's 2016 Study on Customer Experience for Banks, 81% of younger millennials (aged 18 to 25) and 71% of older millennials (aged 25 - 35) also used branches. However, in order to successfully connect with this demographic, it is important for micro branches to equal the performance and design caliber of national retailers - this can be achieved by working with an experienced partner who provides unique, custom solutions that embrace this new paradigm.
More Locations, More Opportunities
The farther away a branch is from a consumer, the fewer services that consumer will use. This is particularly true for millennials. According to Forbes, millennials have emerged as a driving force for local businesses. This generation likes convenience and supporting local, instant gratification and homegrown "giving back" experiences. Due to their small size, micro branches are strategically positioned in convenient places. To effectively deploy a micro branch there are a few directions you could go with its placement. One option may be a location in a small building or tenant space located in a downtown area or college campus, places with lots of foot traffic and very little available space.
Another possibility may be placement in retail settings such as a grocery store or big box retailer, this adds another layer of convenience in a frequently visited high foot traffic location. For example, a micro branch could easily be placed inside a grocery store, allowing members to accomplish multiple to-dos in one convenient trip. This partnership allows for many mutual benefits for both parties. The micro branch contributing to the rent with all on-site businesses sharing access to the consumers.
The Whole Nine Yards In Just Nine Feet
How do you squeeze a full-sized credit union into a micro branch? Through optimization. Every square foot needs to have its potential realized and that's exactly what micro branches do. One of the great multiservice space savers used are Interactive Teller Machines (ITMs). Through ITMs, consumers transact business with tellers via video, accomplishing pretty much anything that can be done over a desk with an in-person teller.
There is still a human touch in each location. Micro branches are staffed by what are called universal employees. These multitasking employees have been cross trained in several areas and serve as everything from greeter to loan consultant. They make sure each visiting consumer feels welcome and taken care off.
Much like their larger counterparts, a micro branch should offer amenities that make consumers feel comfortable and welcome such as comfortable seating, coffee and beverages and more. The use of digital screens can be strategically placed to educate consumers, informing them of information that they may find useful. When space allows for it, a multi-purpose room can be added to the layout to give consumers the option of private meeting space with staff.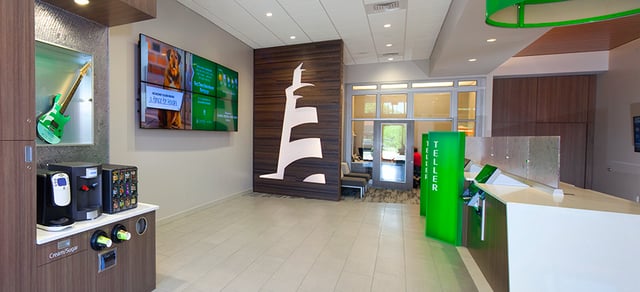 Inviting Spaces Through Thoughtful Design
Through thoughtful design, a small area can still be made to feel open and inviting. It's important that consumers feel welcome to dwell and fully explore the space. Abundant natural light and glass are great ways to open up the lobby, creating the impression that it's larger than it actually is. Additionally, the use of glass walls is a great way to section off the space while still making it accessible.
Color choice is also critical to creating a memorable branded experience. Light neutral colors have a reflective quality and give the room a light and airy feel. This also helps simplify the space and emphasizes the architecture. The use of warm elements, such as furniture or accent colors, will add a homey feel. Color coordination throughout the space makes visuals appear more streamlined, and when positioned correctly, acts as a guide for consumers leading them through the space. Simplify anything you can. Busy patterns and lots of accents make an area seem disjointed. Storage that blends in with the surroundings is a great way to keep a micro branch clutter free.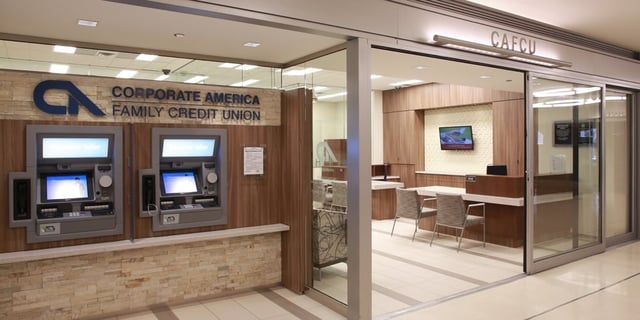 Micro branches can be an important part of building your brand and offering convenience in more geographic locations. Through micro branches, you can reach more people, attract a larger consumer base and create new opportunities to engage in an area that will benefit from your services. Micro branches can be a step in taking your organization to the next level.
Are you challenged with creating a brand-centered branch within a small footprint? Learn how the La Macchia Group's highly specialized design-build services can help create a financial institution that exceeds your expectations.