Fort Community Credit Union Holds Groundbreaking Ceremony for Main Office
by La Macchia Group
FORT ATKINSON, WI -- October 7, 2016 was an exciting day at Fort Community Credit Union in Fort Atkinson as they celebrated the official start of their new main branch remodel. Members of the Board of Directors, credit union staff and employees were all in attendance to commemorate the event. This is the first remodeling project since the credit union's original construction in 1985.
La Macchia Group is partnering with the credit union to help bring a modern refresh to their space that captures the Fort Community brand and offers a customized financial experience for their members. An updated drive-up is planned for the remodel along with the interior of the facility.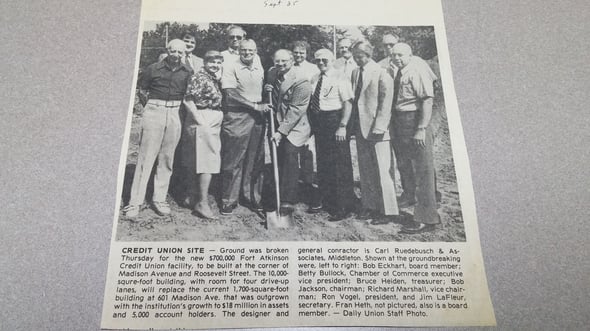 Pictured: The original news article announcing the initial construction of the credit union.