La Macchia Group Project Recognized for 2016 CUNA Industry Award
by La Macchia Group
MILWAUKEE, WI - Simplicity Credit Union, a Marshfield, Wisconsin project designed and constructed by Milwaukee-based La Macchia Group, received an Excellence Award for Branch Design from the Credit Union National Association's Operations, Sales & Services Council. The project was honored at the Council's 19th annual conference on Thursday, September 29 in Las Vegas.
CUNA's Operations, Sales & Services Council is a national network of more than 984 credit union operations, sales and service professionals from across the United States. Awards were presented in three asset-size groups in four categories including Brand Design, Contact Center/E-Support, Miscellaneous, and Sales and Service Management.
Simplicity Credit Union won in the Best Branch Design category (assets $150-500 million) and was recognized for the innovative ways they have simplified their members' financial lives through the redesign of their main office branch.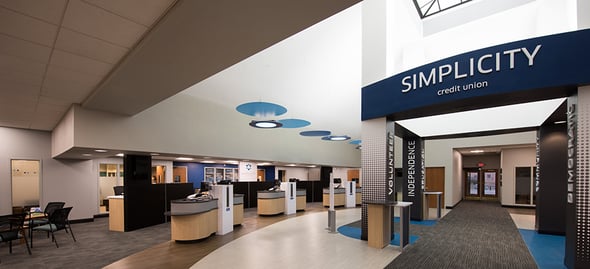 La Macchia Group focused the design on the credit union's vibrant new brand and provided a forward thinking layout for credit union members, complete with a coffee bar and children's play area. Technology innovations incorporated into the space included new marketing kiosks, teller pods and an iPad station.
La Macchia Group is now working with Simplicity Credit Union to incorporate this same member-engaging design into their other branch locations in Stevens Point and Plover. The work will be completed within the next year.
"Simplicity Credit Union has been a forward-thinking client that is pushing the envelope to enhance the member experience at all of its branches," said Benjamin La Macchia, VP of Planning and Real Estate of La Macchia Group. "We're excited to be part of the team that was recognized for these efforts."
For more information about Simplicity Credit Union, visit www.simplicity.coop
View the Project Photos Here