Landmark Credit Union Breaks Ground for a New Branch
by La Macchia Group
MUSKEGO, WISCONSIN - June 21, 2017 was a day of celebration for Landmark Credit Union as they broke ground for the new branch in Muskego, Wisconsin. The new branch's location is part of a new development in the center of town.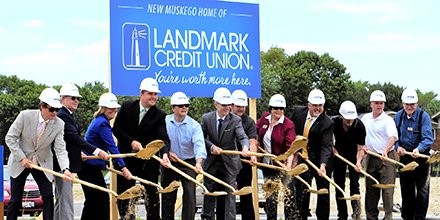 Landmark Credit Union has partnered with La Macchia Group to design and build their new branch which will continue to reflect the Credit Union's values while incorporating a fresh new look to appeal to the community. The new branch's exterior design will be a modern twist to their iconic brick. An elevated vestibule will open the space for abundant natural light. This new branch concept for Landmark Credit Union will also include replacing the traditional teller line with retail teller pods. Natural wood elements will accent the interior design infused with subtle touches of the Credit Union's branded blue.
The new branch is expected to open late 2017.