Who Will Build Your Next Branch?
by La Macchia Group
So, you're ready to transform or build a new branch, but before you begin planning for this investment, deciding who will build your facility is critical. Finding a strategic partner who can provide direction, due diligence, and transparency is the first step in transforming your branch delivery. It is important you have the correct guidance throughout the entire design-build process, from the initial planning stage to adding the latest technologies.
This leaves us with one burning question; why choose a design-build expert instead of a general contractor?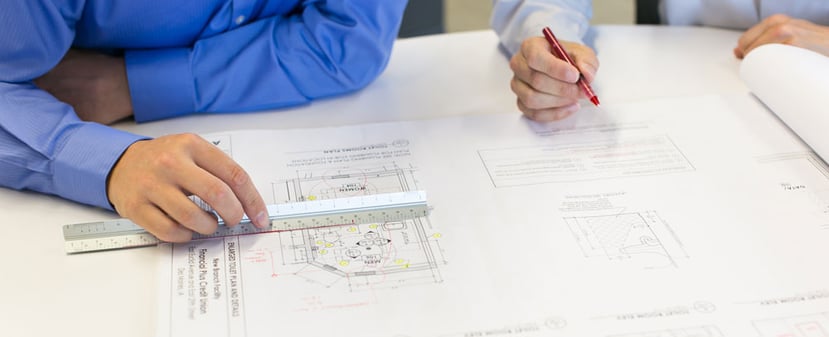 EXPERT INFORMED PLANNING
Today's business leaders are pressed to make more important decisions with less time and even less room for error than ever before.

Before you embark on a large scale project, you need to ensure you have the data to confidently plan for present and future success.

A design-build expert has in-house professionals that

use the latest technology and relevant market information to conduct strategic market analyses, real estate procurement, and space planning that result in the right type of facility, in the right location, at the right price. A typical general contractor will not provide feasibility studies and will require you to look to third-party sources.
Before you start your planning process, ask yourself, do you want a trusted partner to dig into and develop actionable insights or a vendor that will dump data and leave?
FINANCIAL-MINDED DESIGN
A financial institution is a specialty building. Everything from security to retail experience needs to be considered when designing your branch. Branding is an especially important element in your design. Your branch is truly a physical representation of your brand, and having consistent brand messaging and experiences across all touchpoints, including your physical branch, is key to future growth. These are aspects that a design-build expert takes into consideration when developing your space.
On the other hand, a typical general contractor is focused will require the involvement of an outside architect to perform design services. The outside architect likely performs services for many commercial or residential building types, but lacks the focus and expertise needed to design financial facilities which can result in missed opportunities.
MITIGATE BUILDING BLUNDERS
The construction of your project can be the most exciting part of the entire process. However, construction projects can easily derail from the original plan due to a number of variables such as project delays and change orders. Design-build experts have proven experience to design and build to a pre-established budget, which can mitigate many risks and provide numerous benefits. A design-build expert will also have your architect and project management teams under the same roof as well as a dedicated superintendent for seamless coordination.
Alternatively, a typical general contractor will have superintendents sharing time between multiple jobs and a team that has formed from separate companies, which can easily cause a lack of coordination. Many times their cost estimate will come from the architect, who is not even accountable for the final budget.
BRANCHING OUT DIGITALLY
Technology is a powerful tool that, when integrated properly into a financial institution's design, can maximize customer engagement and evolve your business. The integration needs to be seamless and provide your organization with a tangible ROI. A design-build expert is going to be able to recommend the best technology solutions for your branch to help you stay ahead of competition. Whether your technology solution is full of custom, branded digital signage to a full-suite of Interactive Teller Machines to the newest AI technology, your needs will be met. An expert can provide the knowledge and experience to help you make the right decisions.
A typical general contractor is not likely familiar with new innovations, especially in FinTech, so this will be one more task for you to research and implement. An expert knows the trends and how to prescribe the perfect solution for your consumers.
CLOSING THOUGHTS
Overall, a design-build expert will have the resources and guidance to make your branch a success. La Macchia Group specializes in the design-build of financial institutions… and financial institutions only! Our professional team employs our signature PLAN - BRAND -DESIGN - BUILD - EVOLVE approach to create tailored solutions to meet our clients' specific needs and exceed expectations, far beyond what a general contractor can achieve. Let us help grow your business and help your financial institution stay ahead of the curve!