5 Examples of Branded Environments You Won't Soon Forget
by La Macchia Group
We often showcase stellar design aesthetics within our projects, but what happens when you take creative elements of your brand, such as colors, images, and text, and use them to transform an ordinary space into a reflection of your financial institution's mission? You get a marriage of brand and interior design, branded environments.
Your financial institution's brand is critical for building relationships and differentiating you within your market, and also associates your values within your aesthetics. So, when you infuse this into physical environments, you immerse your customer in all the great things that make your brand unique.
BRANDED WALLPAPER
C&F Bank, Virginia
Wallpaper adds depth to the space, as well as a touch of originality. In each project the application of the wallpaper is expertly chosen because if applied incorrectly, it can evoke the wrong feeling within the space (i.e. too much pattern, overused, underused, color). In C&F Bank's Richmond, Virginia space, a literal interpretation of branded wallpaper was applied with their logo. Tessellations of the 'C' and 'F' characters create a lattice pattern that interrupts the clean space with some visual interest.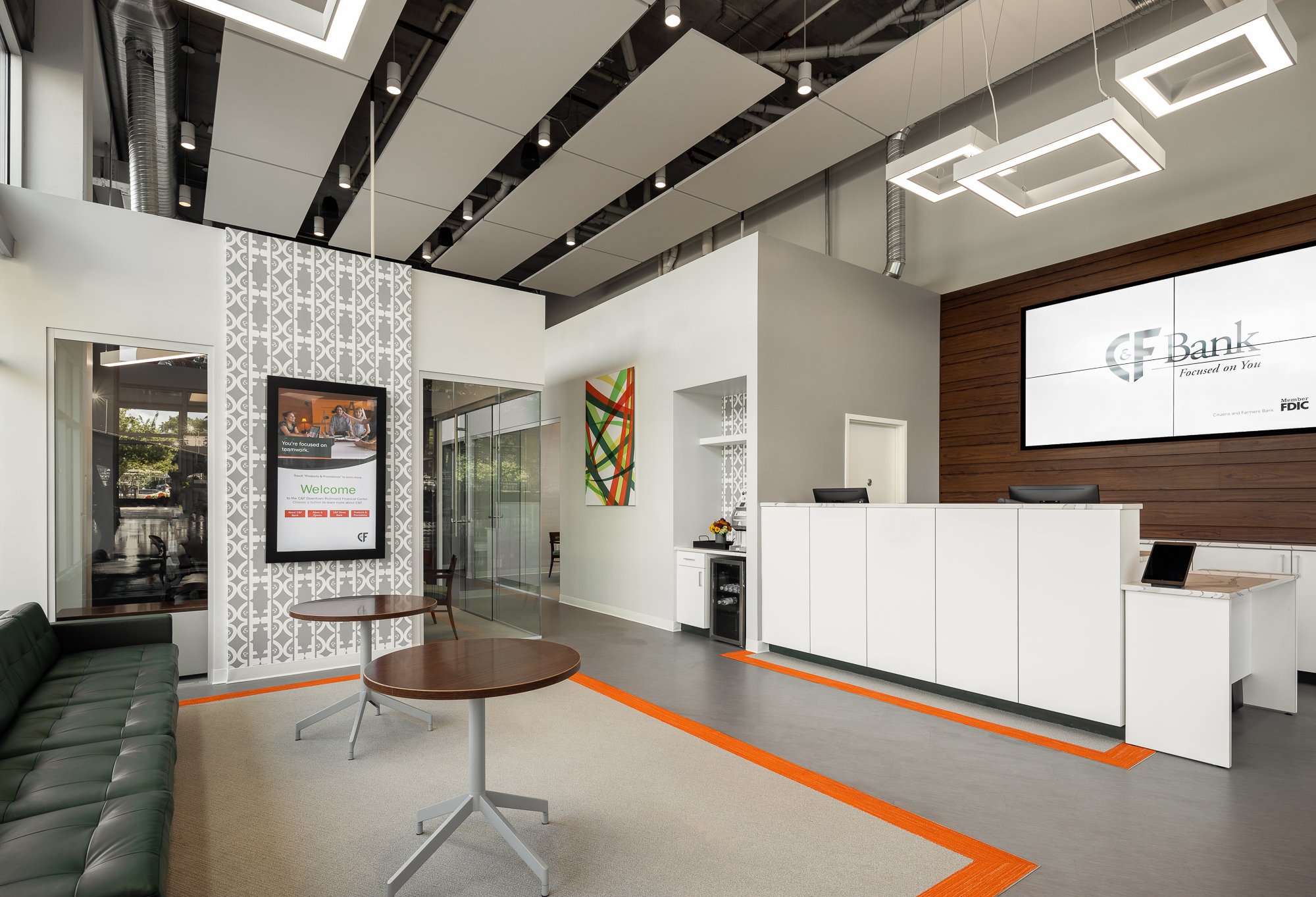 COLOR & SHAPE
Texan Sky Credit Union, Texas
Reflections of the Texan Sky Credit Union branded colors are applied within their dynamic lobby, creating a warm, immersive experience for their members. La Macchia Group worked with Texan Sky to develop a new brand identity that reflects their values, history, and future. The brand included everything from a new name, tag line, logo, and colors. These elements are repeated throughout the space from the painted walls to the furniture, all leveraging the sunset inspired ombre of yellow, orange, and red. The triangular pattern within the logo is reflected on the wall, creating a mountain-like mural.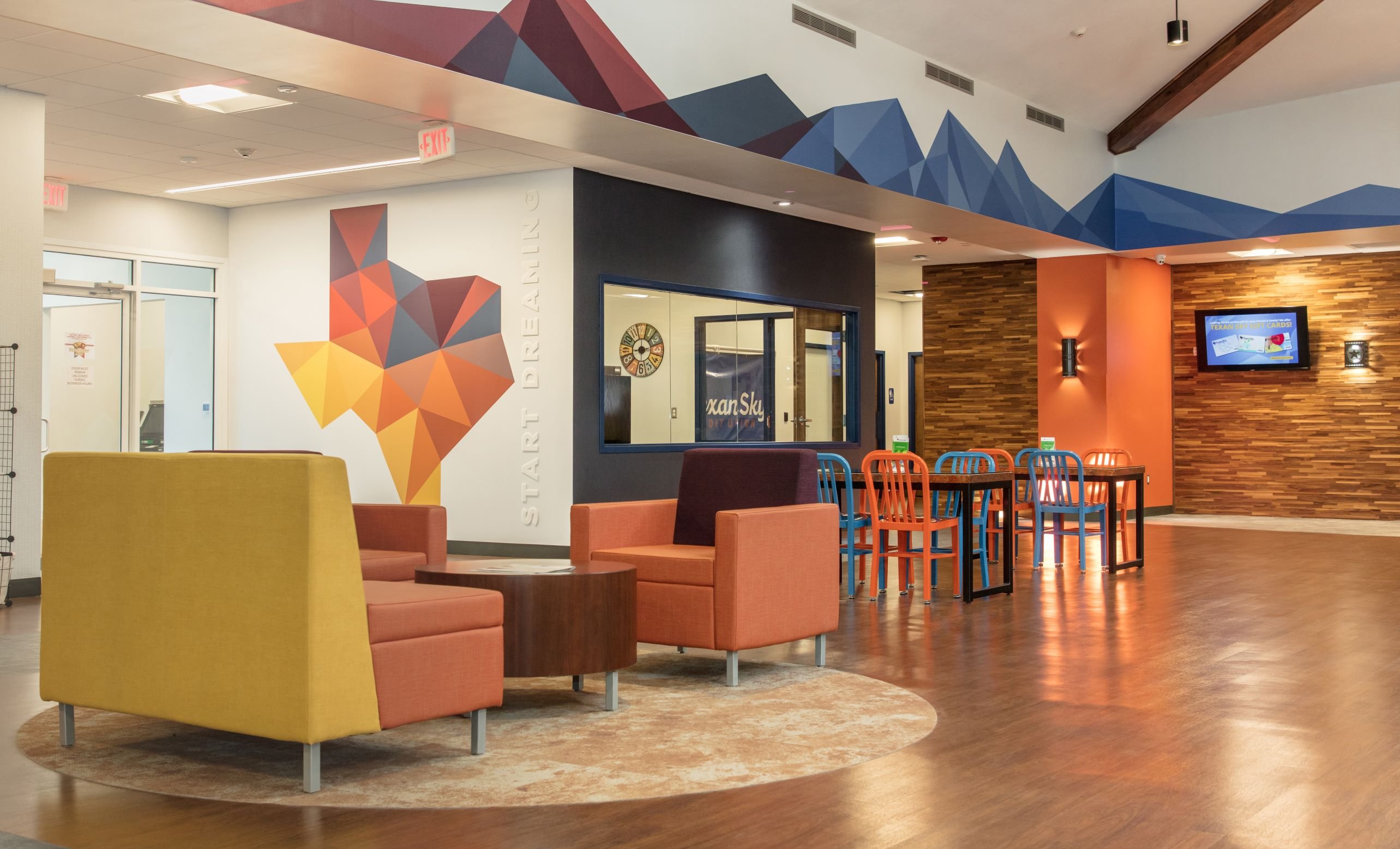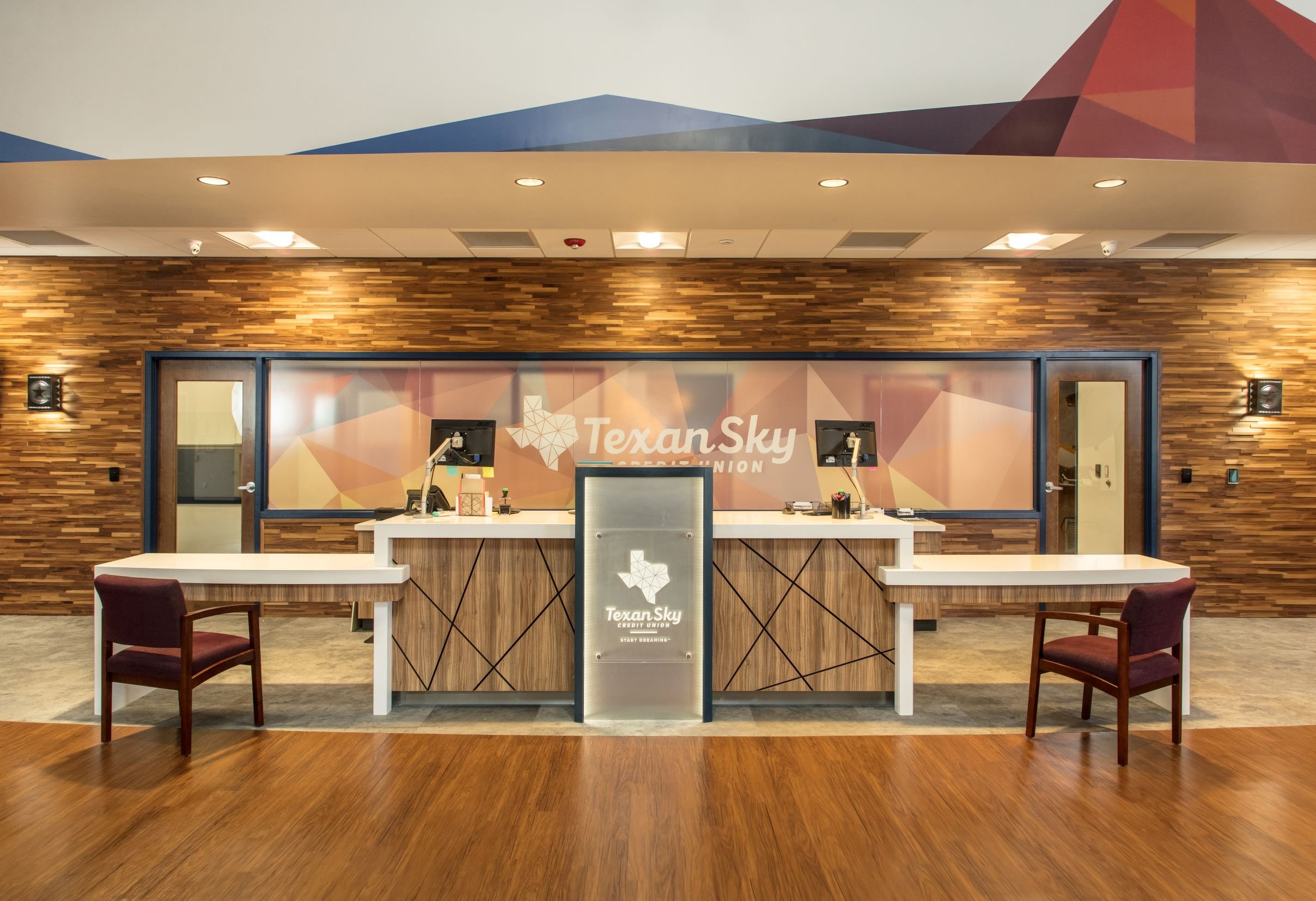 CONSISTENT ELEMENTS
Alliance Catholic Credit Union, Michigan
Think about the consistent physical environments of big retail brands such as Starbucks, Target, and Trader Joes. Each one can be identified through their usage of unique design elements within their interior space that reflect their brand standards through color and aspirational imagery that evokes a feeling or sentiment. At Alliance Catholic Credit Union in Michigan, their repeated usage of a stained glass window with branded colors achieves just that. Alliance Catholic's mission is to provide trusted financial services, inspired by Catholic values and traditions, to enhance the financial well-being of our Catholic communities and the neighbors we serve. Their institution was formed within Catholic parishes, creating a bridge between the church and credit union, and this very sentiment is not lost within the physical expression of their branded spaces. Each branch leverages the same color palette and recognizable stained glass window pattern, and most recently within their main office.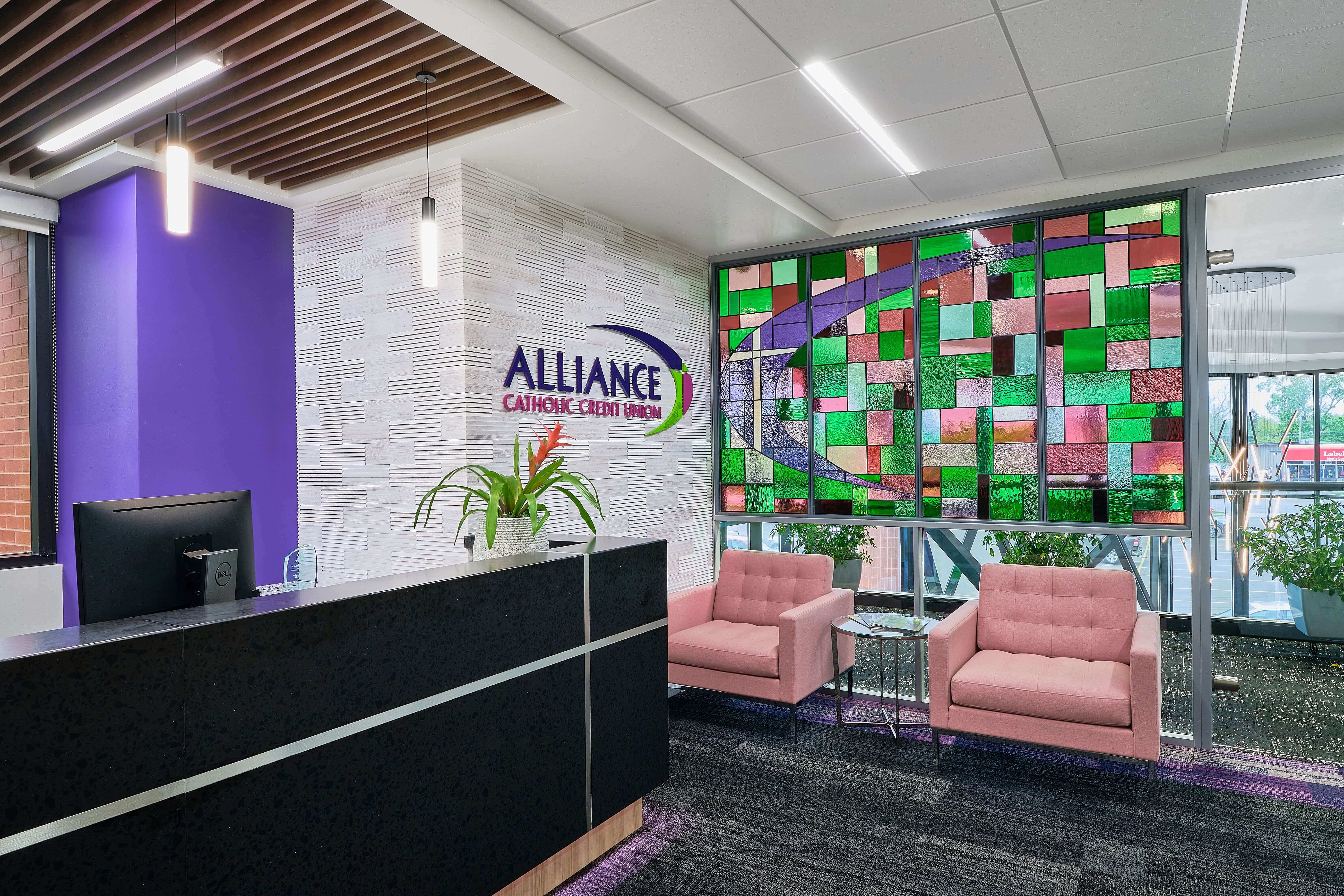 LOGO CENTRIC DESIGN
Provident Bank, New York
La Macchia Group was able to incorporate the Provident Bank logo in places you might not even think to look. The logo pattern on glass windows and doors create a privacy screen for office meetings. The slatted wood ceilings (i.e. acoustical ceiling baffles) reflect the layered design of the logo that is echoed throughout the entire space. These translations of the logo help construct a cohesive feel to the environment without being too obvious. And of course, it wouldn't be a Provident project without a "Provident Blue" wall, which is the perfect accompaniment to the bank's contrasting orange logo.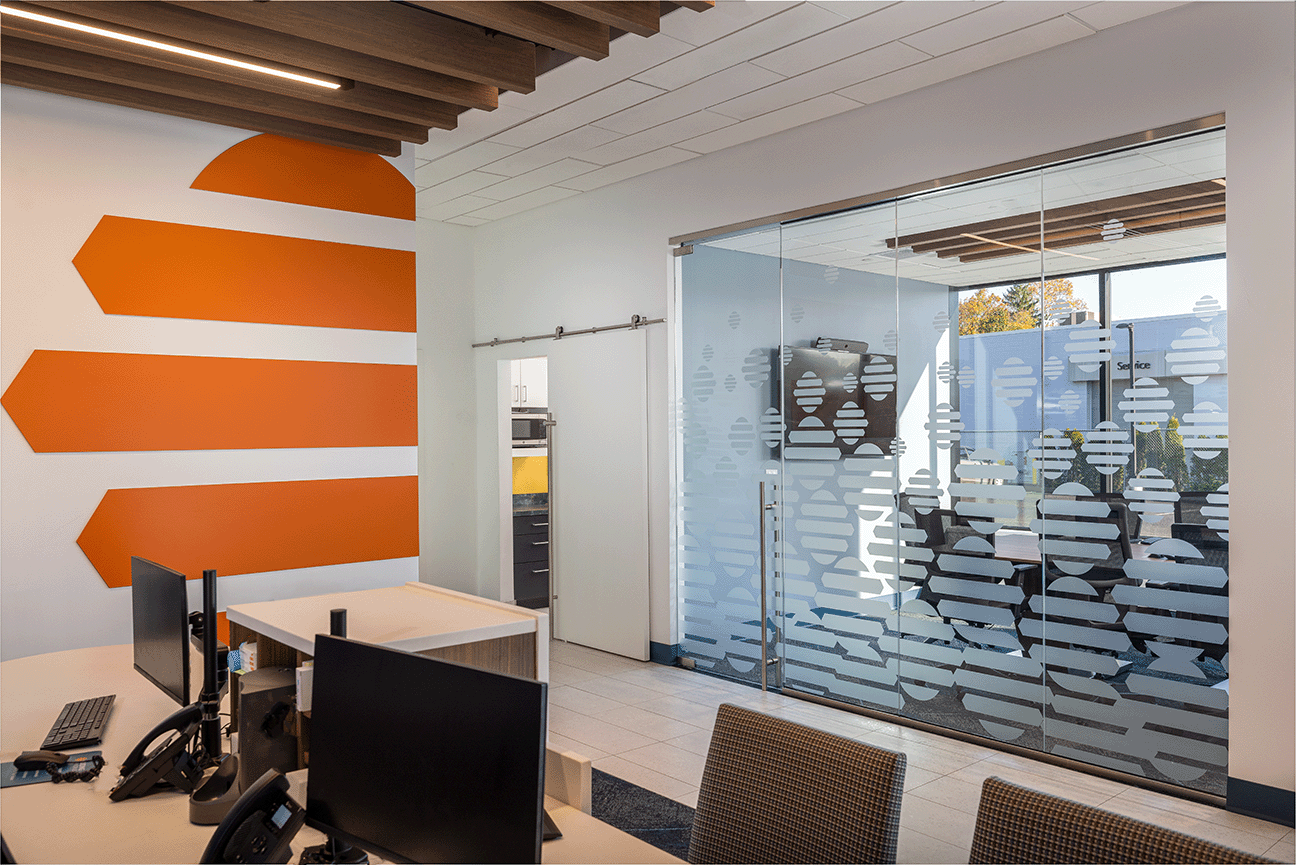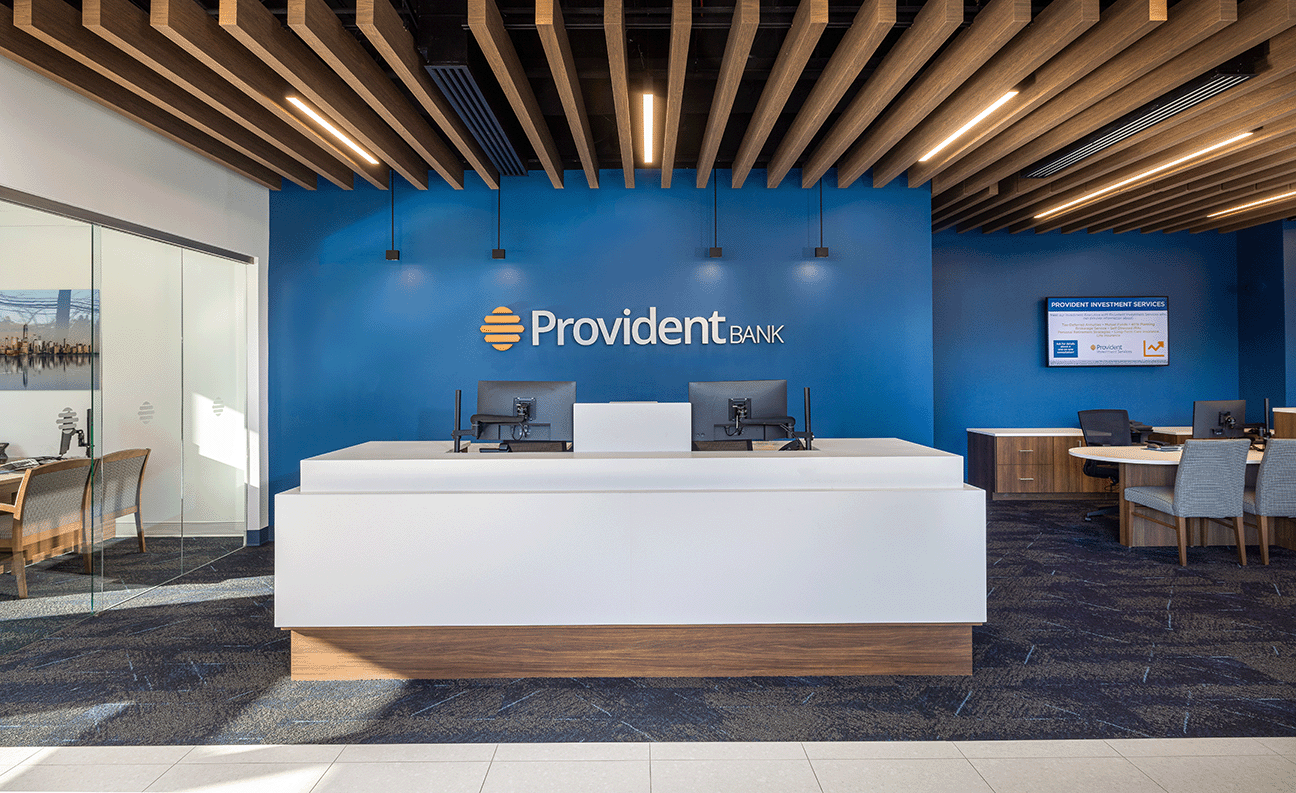 MISSION FOCUSED
True Sky Credit Union, Oklahoma
In the first of many projects together, La Macchia group was able to redesign the branch layout and refresh the design aesthetic in a way that pays homage to True Sky Credit Union's root membership; air traffic controllers and FAA employees. Usage of aviation imagery and elements can be seen throughout the interior and exterior of the building. A visitor favorite is the runway design cleverly laid into the flooring leading up to the teller pods, and the video wall simulation of various aviation scenes.