11 Clients Announce Groundbreaking, Ribbon Cutting Ceremonies!
by La Macchia Group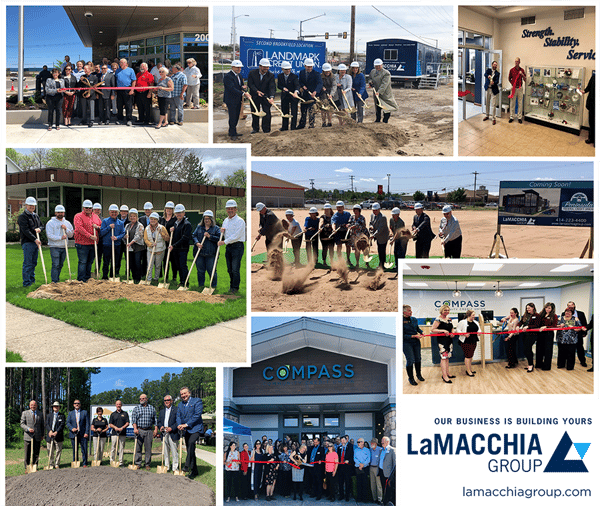 As featured in CU Today:
In the past three months, La Macchia Group is reporting it has celebrated 11 groundbreakings and ribbon cuttings, kicking off construction and commemorating grand openings at credit unions and banks throughout the country, the company said.
"These recent months have been nothing but exciting for our clients and our La Macchia Group team," said Ralph La Macchia, co-founder and president of La Macchia Group. "We are thrilled to bring our clients' vision to life, sharing in their commitment to their communities, employees and members and customers."
Groundbreakings took place at the following locations:
Peninsula Federal Credit Union; Escanaba, Mich.
1st

Community Credit Union; Tomah, Wis.
Kohler Credit Union; Sheboygan, Wis.
Bayer HFCU; Summerville, S.C.
Coastal Credit Union; Durham, N.C.
Landmark Credit Union; Brookfield, Wis.
Bank of Pontiac; Pontiac, Ill.
Ribbon cuttings took place at the following locations:
Bank of Brodhead; Brodhead, Wis.
Black Hills FCU; Rapid City, S.D.
Compass Community Credit Union; Eureka, Calif.
Compass Community Credit Union; Arcata, Calif.
Proven Methodology
In a statement the company said, "Through its proven methodology of Plan – Brand – Design – Build – Evolve, La Macchia Group designs and builds market-driven, brand-centered financial institutions, tailored to meet each client's unique needs. As the trusted development partner of more than 400 financial institutions across the nation, La Macchia Group creates exceptions environments that foster customer relationships and provide a competitive advantage with measurable results."
For more information, visit www.lamacchiagroup.com.