Blueprints For Building Award-Winning Brands
by La Macchia Group
As featured in Financial Brand, June 1, 2021:
3 STEPS TO HELP CREATE YOUR BLUEPRINT.
Meaningful brands aren't built in a day. The seamless experiences that consumers have when they interact with a top-caliber brand should feel easy, frictionless and engaging. But to get there, the kind of brand that wins awards and wins the hearts and loyalty of consumers and communities are researched, strategized, tested, and cultivated into a thriving existence.
Ultimately, a brand is a distilled, concise expression of who you always have been at your core cultural DNA. Everyone is different and maintaining and celebrating those differences is what allows a brand to stand out. Following suit when refreshing a brand makes the process feel like a natural next step, making it easy to embrace the refreshed brand, like an old friend with a new haircut rather than a stranger.
The process includes tough questions: how can we craft a new identity that equally resonates with new and prospective consumers without alienating consumers with whom we have long-standing relationships? How can our brand be brought to life within, but also expand beyond the four walls of our physical institution? How can our brand be emotionally relevant but also practically executable? Answers to these questions help form the framework for an award-winning brand.
Working with dozens of financial institutions nationwide, I've learned that while every brand is different, one thing is the same: there are no shortcuts when it comes to creating a brand that wins the hearts and minds of its audiences (while also winning an award or two). But when done right, the return on investment of time, talent and resource is always worth it.
So where do you start? How do you ensure ROI? The path to success should have three key steps: analysis and strategy, identity and design and activation and expression.
STEP 1. ANALYSIS + STRATEGY.
Successful building projects start with a solid foundation. Swap out the concrete footing and floor slab with analysis and strategy, and the same is true of building your brand. There are two key elements that work together to make up a brand's DNA and serve as a catalyst for brand growth:
Established target demographics
Captured personas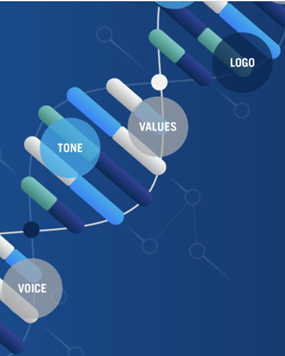 When considering a branding effort, start with the data of demographics. Socioeconomic data, interview findings and survey data are critical in connecting your target demographic to your brand. When you dig deeper into the captured personas of your target demographic, from emotional needs to lifestyles, you can then identify the experiential connector between you and your consumers that define the value-driven "reasons why" behind what you do. The result is your unique brand DNA, which is the cornerstone of your brand strategy.
What does this look like in practice? Let's consider a case study from Reliant Credit Union in New York. Beginning as a credit union serving teachers out of a classroom in Sodus, NY to the nine-branch, 40,000+ member community it has become, Reliant has always been committed to its members.
However, studies conducted by La Macchia Group found that Reliant's visual logo did not convey the open, caring culture or the credit union's member-and community-oriented values. There was a disconnect between Reliant's brand and target consumer, which established a need for an overall refresh to better engage with non-members in the marketplace.
We partnered with Reliant to revisit its brand foundation through a discovery process involving target audience and market analysis using research, surveys and interviews. Reliant's primary target demographics are Gen Z and Millennials within three counties in New York State.
Life paths and financial journeys for these demographics have been significantly different and "non-traditional" compared to their parents and grandparents. The discovery process revealed that this audience was looking for a financial institution they could see themselves reflected in; one that understands and invests in them, creating an interaction rather than facilitating a transaction.
Today's social media-driven culture is specifically curated to highlight idealistic and often unattainable lifestyles while ignoring the everyday struggles and successes that many brands would consider unpopular in the rat race of likes and impressions. Our research uncovered the need for authentic, realistic messages reflecting the identities of everyday people and for normalization that everyone has their own life journey that requires a unique financial solution.
Reliant learned that its defining strengths in the eyes of its staff and members was its ability to think outside the box, celebrate individuality, and understand that the path to reaching one's financial goals isn't always a straight line. While Reliant's internal culture and intrinsic brand were consistent in its shared goal of working hard to help each individual member move closer to attaining financial aspirations— the credit union's existing brand identity didn't convey this.
STEP 2. IDENTITY + DESIGN.
Once you've poured your foundation, you're ready to start framing out the defining attributes that differentiate you from your competition. From naming and logo design to tagline development and establishing language style, there is a symbiotic relationship between each that works together to create your brand identity.
Two key components of this are messaging and logo development. For Reliant, who was undergoing the rebranding process in the middle of COVID-19, the analysis and strategy process illuminated the target audience's desire to have a "life well lived," which inspired the core message "achieving life."
This messaging theme gave words to a promise that Reliant was already actively practicing with its members. From it came Reliant's new "Achieve Life" tagline, which was designed to personally resonate with each individual's motivation and search for betterment. Amidst the chaos of a pandemic, this tagline ignited hope and encouraged the Reliant community, instilling confidence that they could indeed recover, pick up the pieces and achieve their best lives, despite setbacks.
This brand promise acted as a call to action to the audience, encouraging them to look beyond the probable to explore the possible with Reliant as their financial partner.
From the design perspective, Reliant brought this message to life through a new logo. Each element was specifically chosen to embody and enrich the new tagline. The lower-case slab-serif font was chosen for its friendly feel and the handwritten tagline was chosen to represent individuality (like a signature). Reliant's new logo design represented its dedication to keeping things simple, approachable and welcoming.
The color palette was also intentional. While the dark blue is an homage to Reliant's history, the updated orange, gray, and turquoise color scheme was developed to be forward-looking, with the chevron arrow as a nod to always moving forward and achieving more in life.
The result not only resonated with current and prospective members, it received a CUNA Diamond Award.

STEP 3. ACTIVATION + EXPRESSION.
One mistake we often see financial institutions make is thinking the rebranding process is complete when branding elements and messaging have been finalized and integrated into physical and digital channels. Effective integration is absolutely necessary, but to really be successful, key audiences (including staff, consumers and the community) need to be invited into the brand to understand, experience and believe in it. This requires a thoughtful and inclusive approach to activation and expression.
Another La Macchia Group case study, Texan Sky Credit Union, offers a stellar example of physically bringing a CUNA Diamond award-winning brand to life.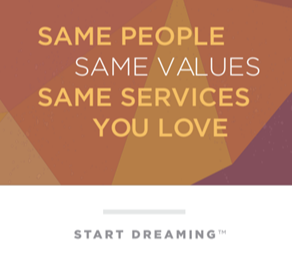 Formerly known as Shamrock Federal Credit Union, the organization had a strong membership base from its days as the credit union for Shamrock Oil, but had struggled to update its brand to appeal to today's generation of consumers. Research showed that what made Shamrock truly special to its membership was its "panhandle integrity" and trustworthiness tied to local roots, dedication to helping members achieve their dreams, and its personable, next-door neighbor culture that informed its approach to member service.
After guiding the organization through the first two phases of the process, which fueled the creation of the new name, logo, tagline and key messages, La Macchia Group helped bring the brand to life across all channels and branches. Texan Sky Credit Union members came along for the journey, and were actively invited into the rebranding story, which culminated in an event that immersed members directly into the new brand identity.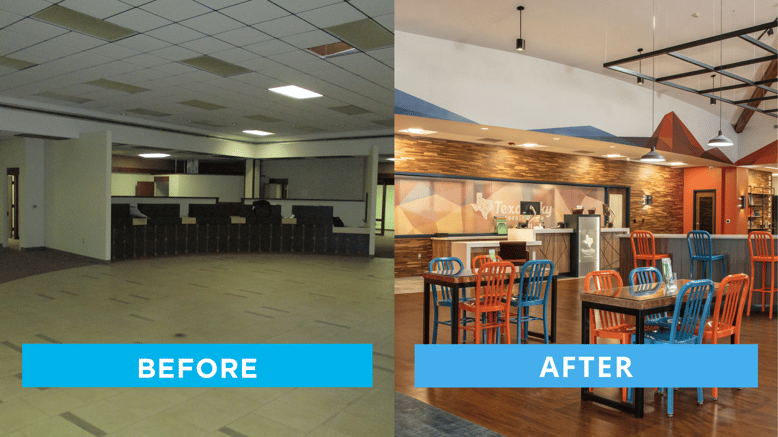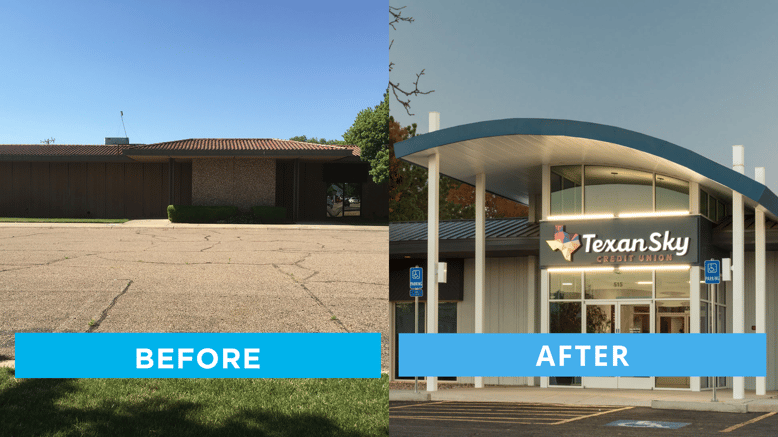 OWN YOUR BLUEPRINT BY MAKING A LASTING IMPRESSION.
Working with incredible clients who love what they do makes the rebranding process so enjoyable; it is a privilege to help them tell their story in a more powerful way.
The most important—and difficult—thing about creating award-winning brand identities is cultivating something that speaks to the heart (with words, imagery and embodiment) and creates an authentic, meaningful experience. Ultimately, it's not about the colors, the font or the graphics—it's about building a relationship, making an emotional connection and leveraging loyalty. That emotional connection of a brand lingers long after the paint fades.
The end game is a long-lasting relationship. Before a deep, meaningful, emotional connection can change a prospective consumer into a loyal user, there is a first impression. Are you owning yours? Here are seven tips to help you make the most of your financial institution's seven-second first impression.