La Macchia Group Receives ASID - Wisconsin - Design Excellence Award
by Nina Penson, Senior Marketing Specialist
We all know what it feels like to walk into a well-designed space, but it takes a special talent to create it. La Macchia Group's team of interior designers and technology experts brought the C&F Bank brand to life in this award-winning retail lobby.
Last week at the Wisconsin chapter of the American Society of Interior Designers (ASID) – Design Excellence Awards, La Macchia Group was recognized for award-winning design work completed on one of C&F Bank's branches in Charlottesville, Virginia. The Charlottesville branch was recognized as one of the best in the Retail/Showroom category.
Many thanks goes out to our wonderful partners at C&F Bank for their collaboration and for entrusting our team to represent their brand through our design and custom content.
Award-winning Approach.
To be an end-to-end, trusted partner in the evolving world of financial services is extraordinarily rewarding. The design experts at La Macchia Group are constantly asking: "Where is the industry headed? How can we help our clients get there?" And most importantly, "How can we help them see long-term growth within their communities?"
When you let the Designers go and they work directly with the client, the results are quite spectacular.
- Ralph La Macchia, Chairman of the Board, La Macchia Group
By keeping ahead of retail design trends and continuously integrating them into the banking space, financial leaders and their teams will move away from the static facilities of the past and create more dynamic spaces than ever before. With today's consumers – especially financial consumers – a transactional relationship isn't enough. Needs must be met with personalized offerings as consumers become smarter, knowing exactly what they want (and don't want) in a banking provider.
C&F Bank: Banking Evolved.
Nestled in a well-known southern town in Virginia, C&F Bank sought to standardize the branding throughout its network of more than 30 branches. In addition to standardizing the brand, they wanted to lead the charge when it came to tech-forward ideas and delivery in its branch network. The design team at La Macchia Group was up for this challenge, and was excited to work with a client determined to offer a different banking experience to its customers.
C&F Bank chose a new branch location for La Macchia Group to create a branch prototype design, planning the layout and finishing the interior of an already-built space. C&F wanted to move away from a transaction-based branch to one more consultative in nature. Customers would receive the highest level of financial advisement in a retail setting, creating an experience unlike any other financial institution in the area.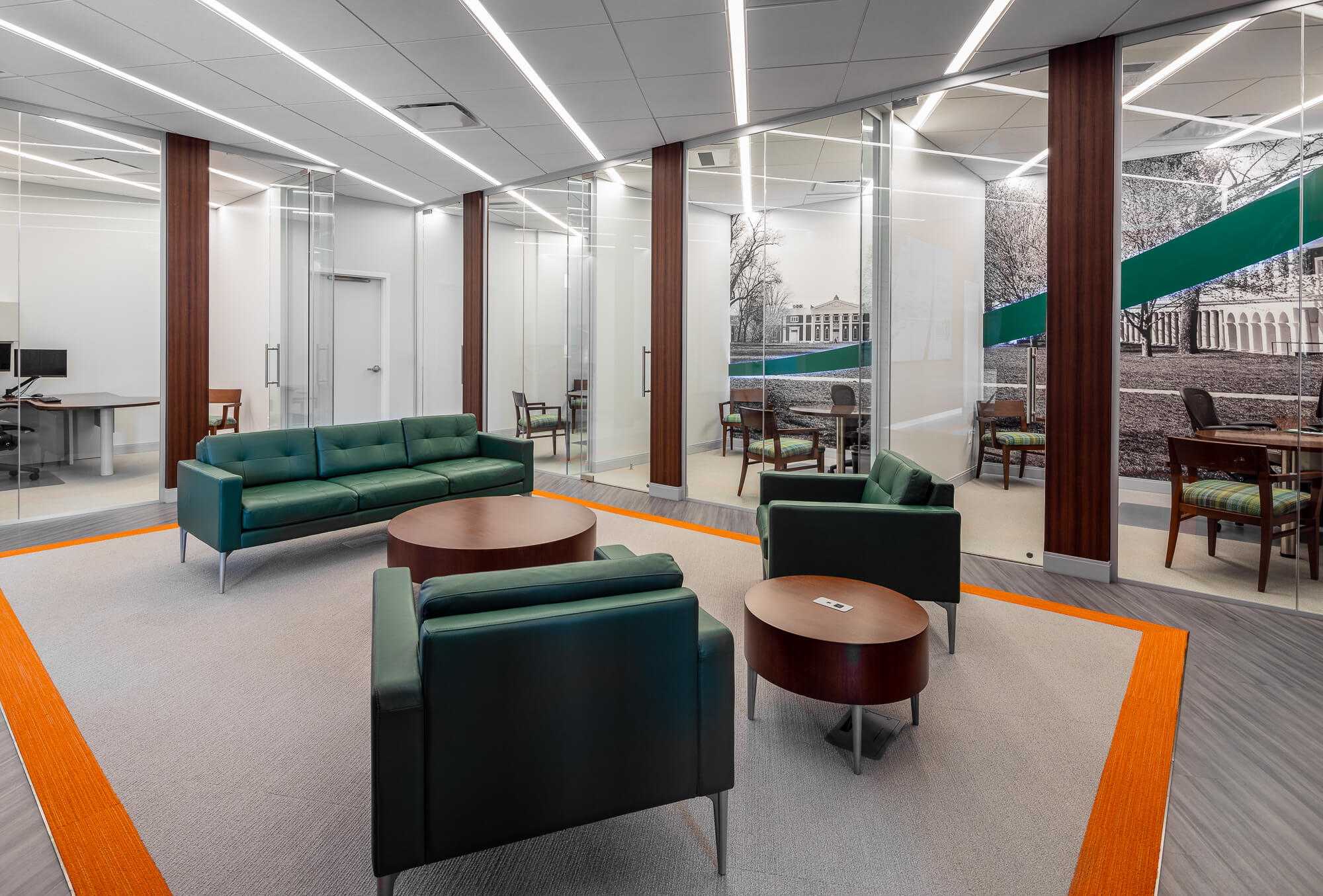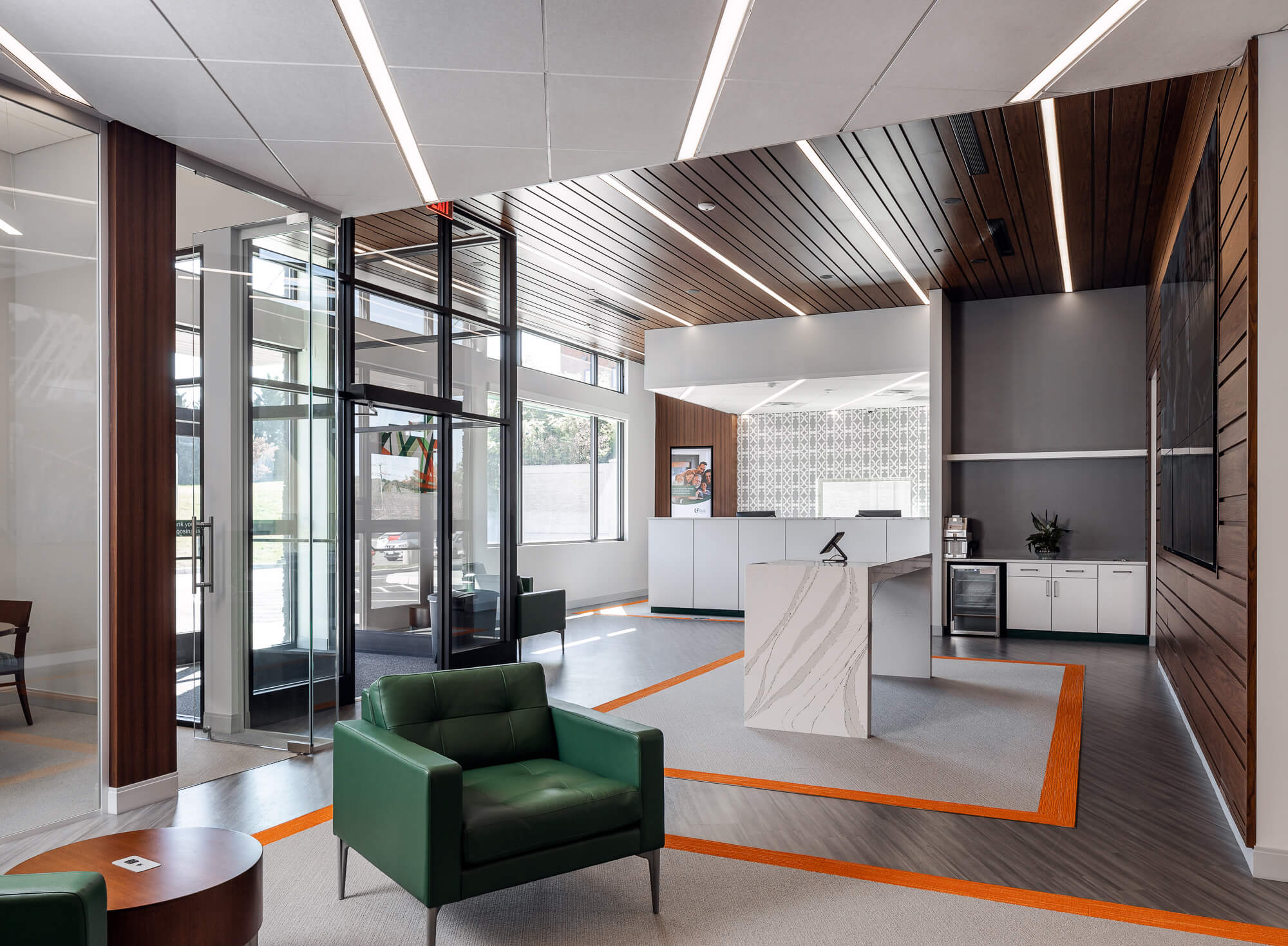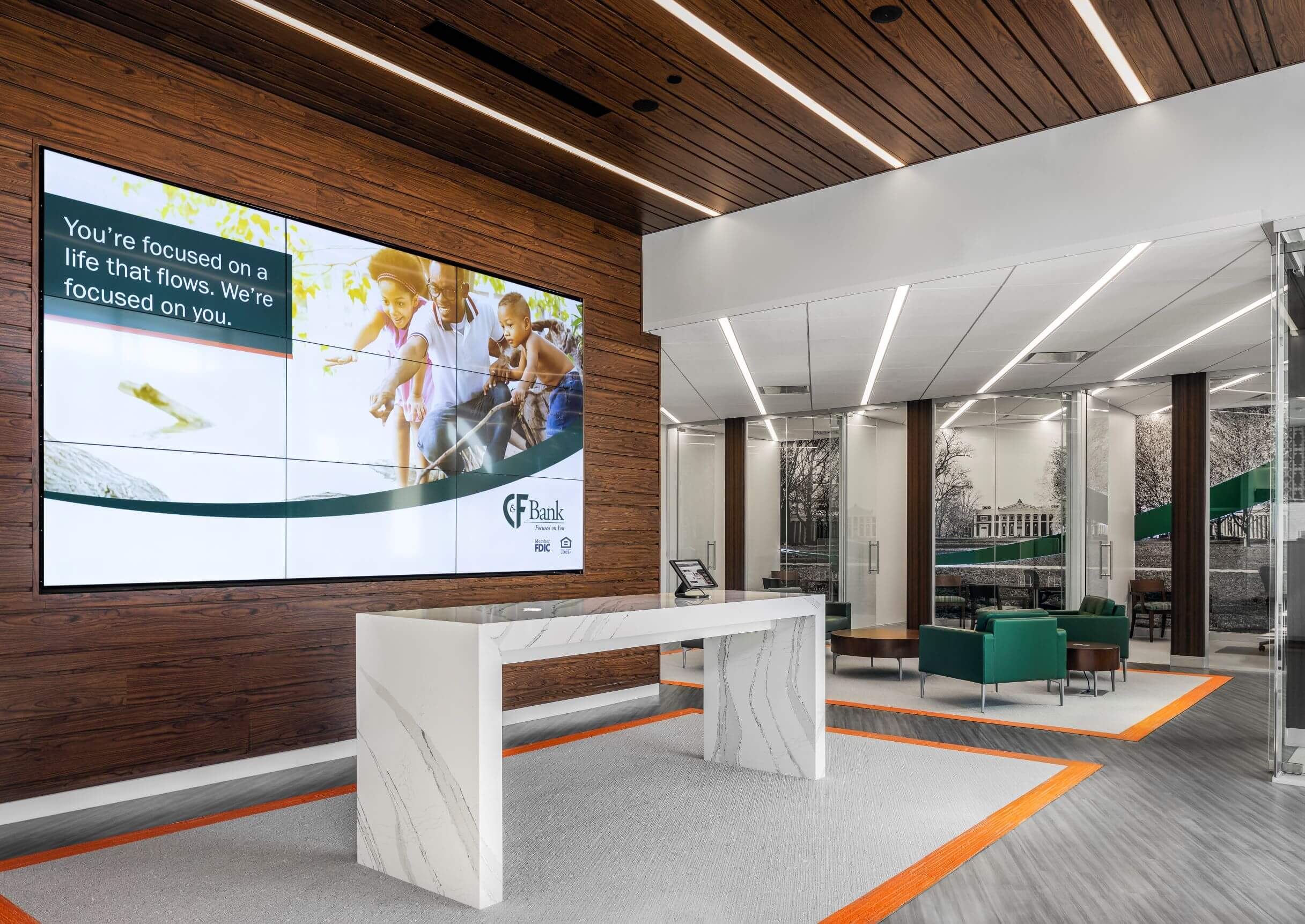 Consumers form a first impression of retail spaces within seven seconds; C&F Bank wanted to make it count by welcoming customers with a digital-forward branch strategy.

When a visitor walks in, they're immediately met with a large video wall set with branded messaging, imagery of financially happy families, and information about relevant products and services.



A variety of design details were critical in

creating a financial experience that could increase customer morale and social engagement. By using directional flooring and lighting to reinforce the focus on private, flex offices and not tellers, the design subtly encouraged high-value customer-staff interaction. Pr

ivate offices were an important element of the bank's one-to-one service delivery model, as was the desire to encourage trust and transparency in the relationships. Floor-to-ceiling glass was used in the offices to allow for maximum visibility and openness to the rest of the space.





With no windows on the far-right wall within the offices, designers leveraged a black and white mural of Charlottesville to unify the space and reinforce the connection with the local community and history of the area. The mural, made of historic visuals of the charming city customers call home, is accented with a green swoosh that pulls the eye across the entire wall and a blue, halo-lit outline that gives the wall an extra punch.

Finally, the bank wanted to give customers a comfortable place to wait before engaging with bankers on business or personal matters. The flooring around the lounge, welcome desk and teller areas are bordered in bright orange, providing delineation and a pop of color within the space to draw customers in, while the deep green furniture embodies the brand and feelings of security and comfort.
Providing C&F Bank customers with a beautifully designed and branded space in Charlottesville and at other locations will not only bring consistency to the brand, but fuel its long-term growth ahead.
Congratulations To Our Team.
From design and construction to technology and content, it took a team of individuals and collaborative efforts to bring this project to the finish line. Members of the C&F Bank project team included:
Interiors - Roxann Bentfield
Architecture - Kyle Edwards, Jake Kaun
Project Management - Steve Royer, Chris DeLay, Allison Gengembre
Field - Dave Dean, Ron Dow
Sales - Dave Throndson
Vivalociti - Tim Klatt, Zach Lisko, Mark West, Myron Hood
As La Macchia Group's design team and leadership reflect on this award, Tom Kennedy, President of La Macchia Group, states: