Texan Sky Credit Union Commemorates New Branch with Ribbon Cutting Ceremony
by La Macchia Group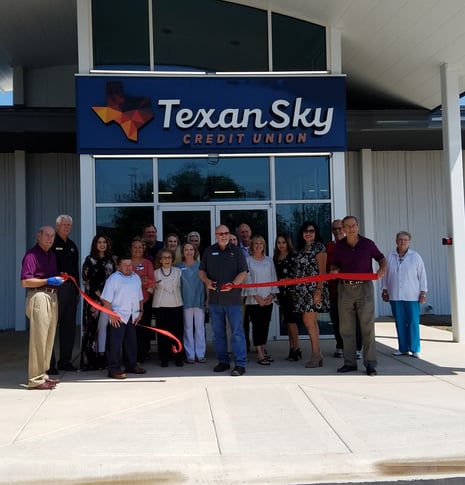 DUMAS, TEXAS – In early 2018, Texan Sky Credit Union – formerly Shamrock Credit Union – announced the new brand identity for the Credit Union. Now, Texan Sky Credit Union is revealing their new branch located in Dumas, Texas. The Credit Union held a Ribbon Cutting Ceremony to commemorate their new location and this exciting next chapter in their history.
Texan Sky Credit Union engaged with La Macchia Group to perform a Strategic Market Analysis to identify new opportunities to increase wallet capture amongst existing membership and new growth opportunities in their existing markets. Results of the analysis concluded that to stay competitive in their market, their best move would be to create a new brand identity that would resonate with their current membership as well as draw in new members. To accommodate for their future growth needs, it was also recommended to relocate to a larger building which Texan Sky already owned. This opportunity would allow them the additional space they needed as well as keep controlled costs of their project.
The Credit Union worked directly with La Macchia Group's Branding Services team to develop a new brand identity. A new name, Texan Sky Credit Union, was ultimately chosen and would be the roadmap for the design of the new branch. La Macchia Group analyzed the footprint of the building that would soon be home to Texan Sky's new branch and crafted a design that would bring to life the new brand.