Transform to Perform: Updating Disconnected Branch Networks
by La Macchia Group
When discussing the "branch of the future," the focus is typically on how to incorporate the latest industry trends into a perfect solution that all financial institutions should adopt. However, many banks and credit unions operate with a patchwork of branch facilities that have been assembled over many years. The question is, how can they make this work more effectively?
When it comes to appealing to millennial and Gen Z consumers, the focus is often on new construction and creating a "branch of the future." However, for many institutions, building new branches is not a realistic option. Banks and credit unions are considering how to cost-effectively update and evolve their branch network; a complex issue critical to the strength of their message and success with younger generations.
According to the NCUA, Credit Unions saw their average annual consolidation rate stay on par year-over-year, decreasing by 182 in Q4 2022 alone. Banks, on the other hand, saw 155 mergers in all of 2022, according to the FDIC. With the aquisition of existing buildings, financial instutions can find themselves with a branch network of piecemeal experiences and lackluster brand consistency.
ASSESSING BRANCH REINVESTMENT ROI
Reinvesting in your existing branch network can yield the greatest ROI by strengthening your brand equity. In essence, brand equity refers to how relevant your brand appears from the consumer's perspective. External factors such as changes in industry trends, consumer behavior, technology, or market conditions can diminish brand equity over time, making it crucial to maintain relevance with consumers.
In order to succeed and expand, banks and credit unions must regularly update and uphold their brand. A vital component of this is to evolve their branch network, which often consists of a blend of old, new, and acquired facilities. However, updating branches doesn't always require a complete overhaul. Sometimes the most effective ROI is achieved through a "course correction" or "refresh."
To develop a strategy for evolving your branch network, it's essential to take a systematic and phased approach governed by discovery, design, and deployment. We will explore each of these steps in turn.
Discovery: Key Questions to Ask
The discovery phase of any branch transformation project is of utmost importance. To effectively prioritize your investment, it is essential to evaluate both your branch network as a whole and each individual branch by asking some key questions:
How is each market performing?
Are there many financial institutions in the market?
Which businesses are entering or leaving the area?
How is each branch performing?
Are transactions or consultations the primary reason for branch visits?

What is the current activity level and sales or new account growth projections?
How does the physical space align with market and consumer needs?
Is it too large or small?
Is there adequate meeting space?
Can it evolve to meet future needs?
What technologies can be implemented to improve operational efficiency and customer service?
What is the branch experience like?
What is the condition of the facility, branding, and marketing efforts?
Are there opportunities to enhance the consumer experience that align with the financial institution's brand and the specific community of the branch?
A consistent branch experience will support in-person banking services that meet financial needs and maintain high consumer engagement.
Collecting discovery data for each branch and the network as a whole can lead to a "report card" that highlights branches with significant potential for improvement and warrant substantial reinvestment, and branches with limited potential that only require minor cosmetic updates, or none at all. These "grades" can serve as a guide for an investment plan that targets high-priority locations and ensures the plan is feasible, considering the desired timeline and budget.
CRAFTING A UNIQUE DESIGN SOLUTION
Once you have a plan in place, it's time to create a design solution that addresses the findings from the discovery phase. The key here is to create a prototype branch that is a fully functioning facility, rather than just a computer-generated visualization. By selecting an existing branch that meets the criteria for a complete transformation, banks and credit unions can develop a real-life prototype that meets the evolving needs of their consumers.
This initial investment also provides an opportunity for hands-on training and evaluation, ensuring that the design modifications are on the right track. From there, major elements of the new design can be applied to the remaining branches in the network, tailored to meet the desired investment for each individual branch.
An important factor to consider during the design process is how to avoid the "cookie-cutter" effect. While consistency in branding across platforms, markets, and branches is efficient and valuable for both the institution and consumers, each community has its own unique needs. Successful branch design strikes a balance between providing a consistent brand experience while also customizing the space, messaging, and services to resonate with each community. Allowing for this flexibility to incorporate an individual community's "spin" on the brand can increase brand loyalty from consumers and employees alike.
Technology integration can often enable this flexibility. By incorporating artificial intelligence and machine learning, branches can become more personalized, enhancing the overall consumer experience. With AI, banks and credit unions can adjust their digital messaging to meet the unique needs not only of each branch's community but of each individual who walks through the door. This customized digital approach is an essential part of the solution for evolving multi-branch networks.
DEPLOYMENT: STAGED OR ALL AT ONCE?
Now it's time to put your plan into action. You've completed the discovery phase, designed a prototype branch, and identified which branches require the most investment. The next step is to determine how and when to deploy your plan.
Deployment strategies will vary depending on the financial institution. Factors to consider include whether to close a branch for remodeling or complete a "live remodel" while the branch remains open. There are also benefits and drawbacks to rolling out a refresh across your entire network simultaneously to achieve consistency and brand recognition, but this may not be feasible for every institution.
Based on our experience, a multi-phased, multi-year rollout is often the most effective approach for retail banking institutions. This staged approach allows for flexibility and minimizes disruption to customers and employees. It also ensures that each branch receives the necessary attention and investment to align with the overall strategy.
Alliance Catholic Credit Union's transformation has embraced color and branding, making each branch a recognizable destination.
BEFORE TRANSFORMATION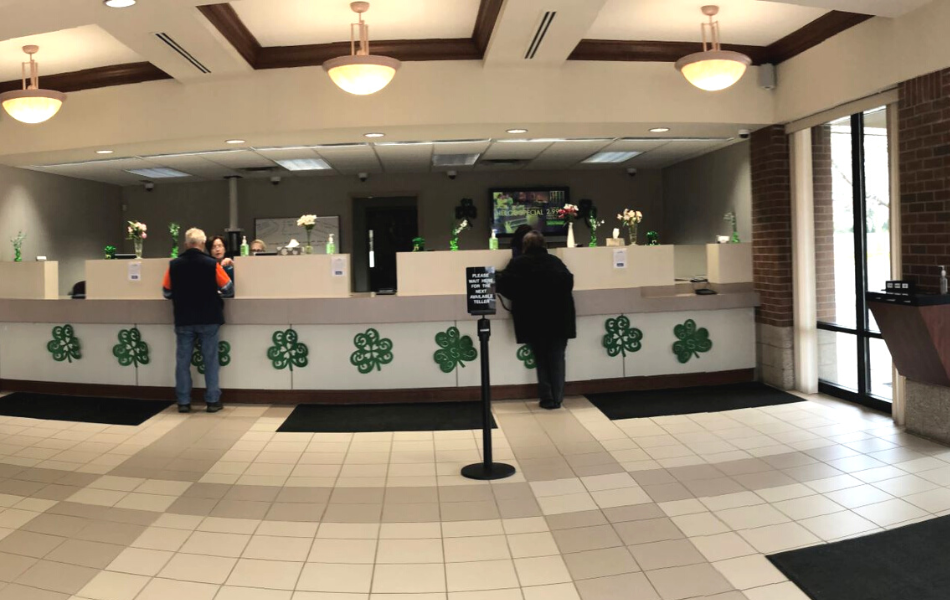 AFTER TRANSFORMATION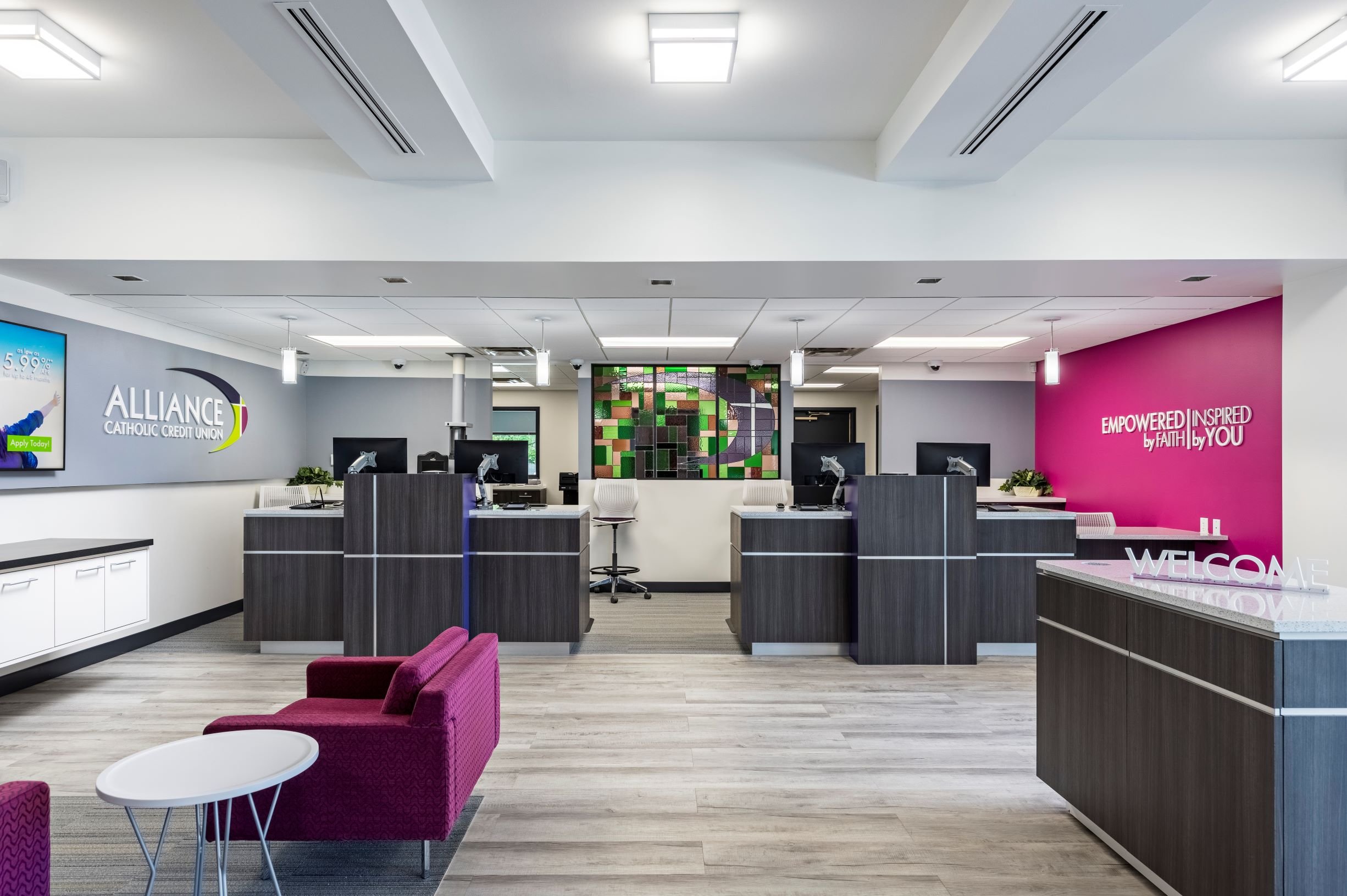 View more of Alliance Catholic Credit Union's branch transformation here.
Williamstown Bank transformed their West Virginia branch not only by employing a new set of brand colors and a fresh interior, but also added a community coffee shop that donates all proceeds to local charities.
BEFORE TRANSFORMATION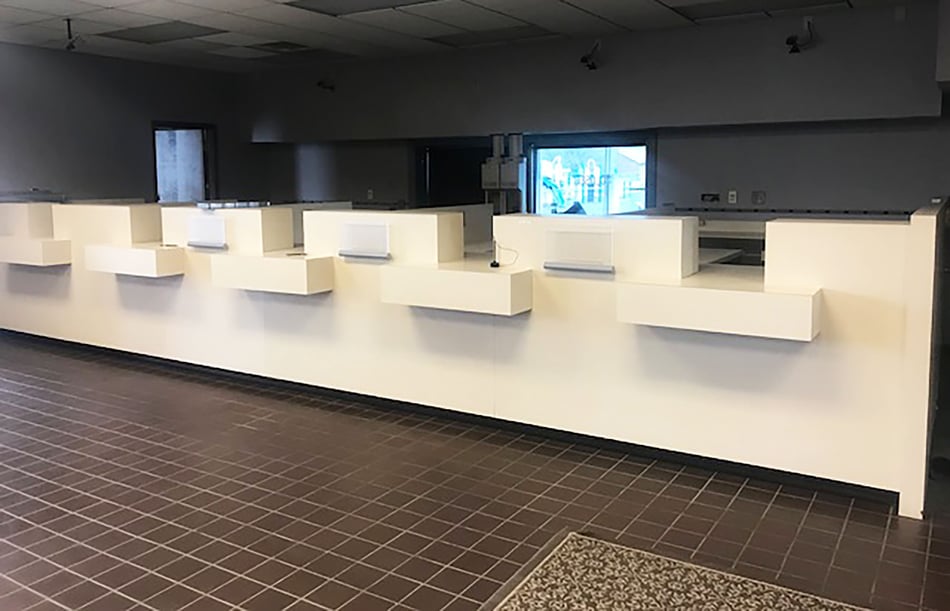 AFTER TRANSFORMATION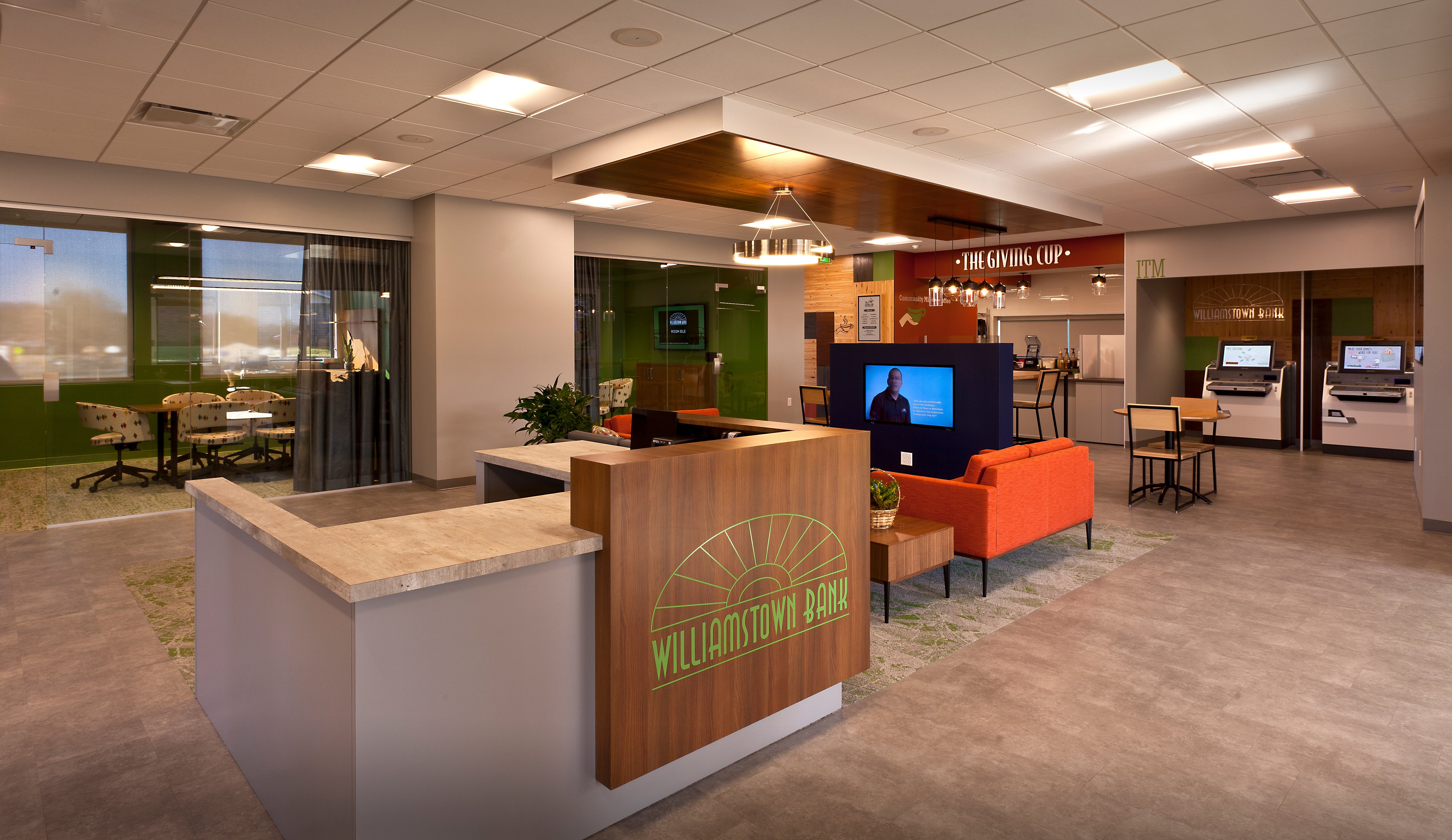 View more of Williamstown Bank's transformation here.